Attracting More than 600,000 people to around 960 events each year, Calgary's Epcor Centre for the Performing Arts is easily among the most successful arts centres of the arts in Western Canada.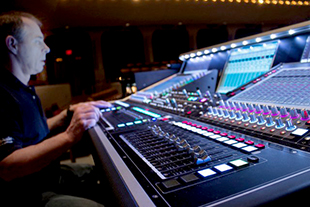 Opened in 1985 by Dr Martha Cohen, Sandra LeBlanc and Vera Swanson –who were instrumental in establishing and raising funds for its construction – it is housed within the historic Burns Building, constructed in 1917, and the 1931-built Calgary Public Building. More recently, the centre has invested in six DiGiCo mixing consoles, building on experience of an earlier console installed in 2012.
The complex occupies six floors and more than 400,000ft2 (nearly 37,200m2), making it one of the three largest performing arts centres in Canada. It includes seven performance spaces, five of which now use DiGiCo mixing consoles, all supplied by DiGiCo's Canadian distributor, Gerr Audio.
Home to the Calgary Philharmonic Orchestra and featuring one of Canada's largest pipe organs, the Carthy Organ, the 1,800-seat Jack Singer Concert Hall is the Epcor Centre's largest and most prestigious venue. A DiGiCo SD5 with full Waves SoundGrid Pro package is installed here at FOH, with an SD10 at monitors and an SD8/24 in an isolated booth. Two SD-Racks and a SD-Nano Rack provide a total of 104 audio inputs and 88 outputs.
The 850-seat Max Bell Theatre is a proscenium-style venue and features a DiGiCo SD7T with full theatre package, set up to move between FOH and an isolated booth. Two SD-Racks and an SD-MiniRack provide a total of 144 inputs and 112 outputs. The intimate, 450-seat Martha Cohen Theatre, meanwhile, features tiered seating, which forms a three-quarter circle around the performing area, eliminating separation between the audience and performers. Here a DiGiCo SD9T with full theatre package and two D-Racks are installed, while the 185-seat Engineered Air Theatre features an SD11i console and one D-Rack.
A further DiGiCo SD11i serves as a 'utility console' – for example for performances in the Jack Singer Concert Hall lobby and as an easily portable monitor console. A DiGiCo Little Red Box and DiGiGrid MGB allow digital splitting of the two SD11i S, and 64 channels of multi track recording and virtual sound check capability in the concert hall, respectively.
'We installed the first DiGiCo products – the SD8/24 and one of the SD-Racks in the Jack Singer Concert Hall – in 2012,' says Jack Jamieson, Head Sound Technician for Jack Singer Concert Hall. 'Their performance led us to invest much more in DiGiCo this year.
'What really impressed us was the audio quality, especially running the consoles at 96KHz with the SD-Racks. The ability to share I/O racks digitally with multiple consoles was another major plus point, allowing the interoperability of multiple console designs within one system. The improved channel count and extra features available on the SD11i were a major selling point for us, as it makes it an extremely powerful console in a very small footprint.'
Given the different sizes, configurations and purposes of the EpcorE Centre's venues, DiGiCo's range of models and flexibility of configuration make them suitable for a wide range of applications, ensured that choosing the different models for each venue was a fairly straightforward task.
'Despite the different consoles, there is excellent continuity of operational ergonomics and audio quality across the entire line,' Jamieson says. 'The T-version of the software offers incredible facilities for the Max Bell and Martha Cohen theatres, while the thoroughness of the offline programmability is also very beneficial. Add to that the incredible support from Gerr Audio, and choosing DiGiCo was not a hard decision.