Taking receipt of the first Merging Technologies Hapi networked audio interface to arrive in Mexico, recording engineer Juan Switalski went straight into a series of sessions featuring music from Mexican composers.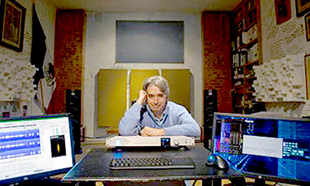 Recorded in various locations with the Orquesta Filarmónica 5 de Mayo directed by Fernando Lozano. These were followed by solo harp sessions with Ángel Padilla at a studio in the desert near San Miguel.
Particularly interesting among the recordings was a piece by Rafael Méndez for three trumpets – in this case, Armando Cedillo from Mexico, Otto Sauter from Germany and Bryan Davis from the UK – and orchestra. The sessions were recorded in the Auditorio de la Reforma in Puebla, 132km from Mexico City. This is a circular auditorium with a domed ceiling designed by the renowned Mexican architect, Abraham Zabludowsky. With 24 microphones set for the orchestra, other mic preamplifiers from Pueblo Audio, Millennia, SSL and DPA were available but the majority was connected to the Hapi.
'There were two features of Pyramix/Hapi that proved so useful,' Switalski explains. 'The Delay plug-in allowed me align the mics precisely within the soundstage and the ability to control the mic levels remotely from Pyramix via Ravenna is a revelation. It was also interesting that we had to do a lot less adjustment to the placement of the microphones and to the relative levels.'
The results from the various halls and the very dry recording studio were vindicated by composers, producers and audiophiles all approving the various mixes. The producer for the harp sessions was Alberto Cruzprieto, one of the most revered concert pianists in México. Switalski took just a few microphones and decided to use three matched pairs for AB (+C) testing. For the first time he was using just the Hapi and it was his first ever 192kHz recording. Listening to the very first take proved to be an emotional experience for the artist, engineer and producer. Despite being seasoned recording professionals, they were sufficiently moved to want to record two more works.
'My forthcoming recording projects include an opera and a woodwind quintet,' he says. 'I have just recorded three orchestra projects in concert halls, chamber music in a music school auditorium and solo harp in a small studio in the desert. I've discovered a new cosmos that enlightens my universe. I did not expect Hapi to be such a dramatic change but it suits all my latest projects and I am itching to return to any hall as soon as possible. I have now 16 extraordinary microphone preamplifiers plus the same amount of A/D conversion and the possibility to easily integrate my other beloved preamps. I've moved to 192kHz and feel gratefully convinced that there is no way to look back. Recording music is like magic and I'm so happy for the contribution of Hapi.'
More: www.merging.com