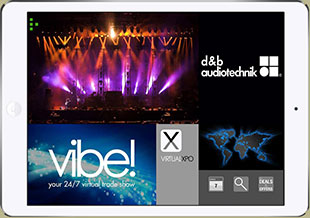 Due to become available on any mobile device by summer 2014, a demo of Vibe! from VirtualXpo is now available for download from the Apple Store.
The fully functioning demo outlines the possibilities offered by the virtual tradeshow model – from fingerprint 'big data' reporting, to its own TV channel. 'We believe that the world should be one big trade show, with people and industries accessible and always open for business,' says VirtualXpo's Jay Green. 'We want to eliminate frustrating web searches, marketing headaches and internet downtime by giving an industry-wide tradeshow in the palm your hand.'
Among other features, the demo includes a multimedia directory of images, video and 360° degree visuals; category, product and name searches; an industry newsstand; links to Facebook, Twitter, LinkedIn email and other social media services; a Deals & Offers section and a TV channel
Additional features are promised to appear over coming months, and key partnerships with existing media and show organisations announced.
'When we first demonstrated Vibe! it was hailed as genius by some of the most influential figures in the industry,' Green says. 'We're delighted that everyone can now download the app, see the potential for themselves and get the Vibe!'

See also:
Virtual Xpo to reignite live production industry (Interview)
More: www.vibe.virtualxpo.com