Opening the first Dolby Atmos room on America's East Coast, Soundtrack Group's Stage K mixing facility has been equipped with a Merging Technologies VCube HD Player/Recorder – following the use of VCube on two other regarded mix stages.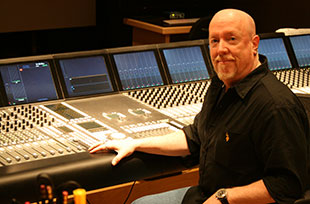 The impressive Stage K features architectural design from Jeff Cooper with the system design for monitoring, projection, re-recording and overall integration by Chief Engineer Chris Neylan. Practical wiring design and installation was supervised by Joe McGuirk.
The centrepiece of the room is the Avid Euphonix System 5 with more than 500 inputs and 64 buses, coupled with a Christie 2K capable projector and Lesna screen. Monitoring is vis JBL loudspeakers and Crown amplifiers controlled by BSS Soundweb London systems, which can be set for 5.1, 7.1 and Atmos configurations with more than 20kW of amplification on tap.
Soundtrack was fortunate to gain the talent of Dominick Tavella in January 2013. After 25 years at the famed Sound One in New York – also a VCube house. Tavella (with Mike Minkler) won the Academy Award and the BAFTA in 2003 for the movie version of Chicago and he has been nominated for a variety of awards since.
'Designing a state-of-the-art facility is a complex process, with an almost endless array of equipment choices that need to handle the many industry formats and standards while interfacing reliably with the other components in the system,' says Chris Neylan. 'It's great to have some choices made easy by an equipment's track record and adaptability. VCube consistently delivers what we need and integrates seamlessly with our control systems and into our overall workflow.'
See also:
RedNet rescue for first Dolby Atmos studio