Fitting out the first dedicated film music mix room to offer Dolby Atmos, film scoring mixer Dennis Sands was stumped on monitoring the multichannel surround system – until he was directed towards the Focusrite RedNet 6 Madi Bridge.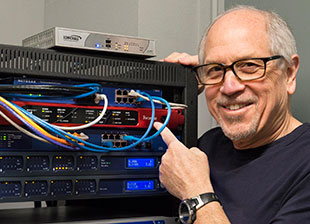 Using major LA scoring stages for film music projects – and bringing some back to his Sound Waves SB studio in Santa Barbara to mix – Sands heard a demonstration of the Dolby Atmos system at the end of 2012: 'I'd never heard anything like it,' he recalls. 'The clarity, transparency, the richness, the dimension, the spatial context of it all was really incredible. I knew right away that this would be the way people will hear movies. Period.'
But with the installed base of Dolby Atmos systems limited to re-recording stages, 'I had no way of actually working in this format,' he says. He decided to upgrade his room with a Dolby Atmos system, at the same time making a significant investment in a new multichannel speaker set-up to support the format. Interfacing with the BSS London managing the monitoring set-up was an obstacle, however.
Sands was working with Ron Lagerlof of Visioneering Design and Andy Potvin from Dolby Laboratories on the studio, who collectively knew they had found their solution, and installed one of the first units to be manufactured. RedNet 6 provides a bi-directional link between any 64-channel Madi and a Dante-based audio network: 'Of all the options, the RedNet 6 was the pre-eminent choice, because it did the job elegantly, simply and at a very, very reasonable price. It was a fraction of the cost of the other options, which would have been a combination of units – and every time you start combining units there's obviously a possibility for failure or difficulty or confusion.
'When we were first discussing interfacing all this technology, the RedNet 6 wasn't available' – so the unit they purchased was the first they would even see. The team's faith proved justified: 'I have unit number Sands,' he reports. 'Ron picked it up from GC Pro, brought it in, connected it, and it worked beautifully. It's the perfect device for the application. It's just this great-looking single rack space box that sits in my rack and just cruises along. It's an absolutely integral part of the signal chain.'
Owing to Dante's plug-and-play capability, the RedNet 6 was simple to install: 'There were no issues at all,' says Sands. 'There was no configuration, there was no learning timeframe; it just plugged in and worked. It did everything we hoped it would do.'
And Cat6 cabling made installation a breeze: 'It's a single line. It's all just elegant, simple and easy to deal with. And Cat 6 is relatively cheap: it's one of the great things about the electronics world, really. Quality is increasing, the price is decreasing–and this fits right into that.
'Without the RedNet 6, I wouldn't be on the air with Atmos,' he says. 'Or, at least, it would have been a lot more complex and a lot more expensive.
More: www.focusrite.com