Timeline Television has installed a Riedel Artist digital matrix intercom system in the new BT Sport production hub in London's Queen Elizabeth Olympic Park to support the live broadcast of the BT Sport 1 and BT Sport 2, and ESPN sports entertainment channels.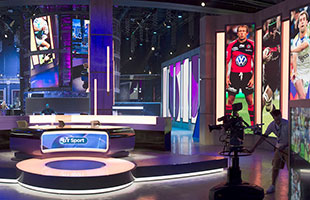 'Communication is at the heart of broadcast operations,' says Timeline Television MD, Daniel McDonnell. 'Without it, we can't make television.'
Within the space of just five months, Timeline Television helped to transform part of the former International Broadcast Centre at the Queen Elizabeth Olympic Park into the new home of BT's new sports channels. The facility includes three large TV studios, seven sports production galleries, a master control room, 20 edit suites, a dubbing theatre and an audience holding area.
'For a sizeable installation such as the BT Sport project to be completed within the very short time frame, all technology needed to be best-in-class,'McDonnel says. 'That's why we chose the Riedel Artist system, which we know to be a reliable communications solution that meets the performance requirements of such a large production facility.'
The Riedel system was installed by Timeline Television in conjunction with systems integrator Megahertz Broadcast Systems and includes three Artist 128 mainframes located around the site. This supports more than 150 talkback panels in the production areas, allowing staff to communicate across the facility, as well as with production teams in OB units at other external sites and other key suppliers, such as playout partner Red Bee Media. Because BT already uses Riedel equipment in the BT Tower, the company was able to connect the two production centres via VoIP.
The construction began in earnest in February 2013, with BT Sport and its production partners moving into the facility in July and the high-profile sports service launching just four weeks later. By programming and testing the entire Riedel system off-site prior to installation, Timeline Television was able to meet the tight schedule. Live, the system provided production and technical staff with straightforward and reliable communications.

See also:
More: www.timeline.tv
More: www.riedel.net