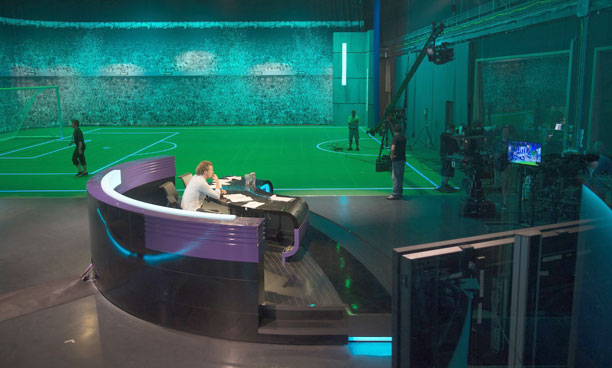 Making a bold challenge to Sky Sports broadcasting in the UK, BT Sport has taken to the air. The UK's newest sports broadcaster has established its own studio complex in part of the International Broadcasting Centre constructed for the London 2012 Olympic Games.
The facility includes three large studios with full production galleries, alongside four smaller galleries for turnaround programmes and 20 edit suites, and provides BT Sport 1, BT Sport 2 and ESPN with a line-up of live sport from Britain, Europe and worldwide, as well as news, debate and comment.
Here, HHB Communications provided Megahertz Broadcast Systems and Timeline Television with audio equipment for the video editing and audio dubbing areas, including Nuumann mics and more than 100 Genelec loudspeakers.
HHB supplied a combination of Genelec 8020, 8030, 8040 loudspeakers, plus subwoofers and mounting accessories for stereo and 5.1 monitoring in the video editing and audio dubbing areas. This is in addition to a combination of Neumann TLM193 microphones and Rycote Invision suspensions for voiceover booths, and Coles 4104 lip microphones for commentary positions.
Broadcast systems integrator Megahertz was appointed to complete the technical fit-out of the facilities by Timeline Television. Megahertz chose a variety of Genelec speakers for the video editing and audio dubbing areas because of their accurate handling of audio for TV broadcast.
'Genelec is a brand that has become an industry standard in broadcast audio for good reason, and we are confident that they are the best choice for the BT Sport,' says Steve Burgess, Technical Director at Megahertz. 'We had a very tight turnaround time for this project and HHB was extremely diligent in meeting our demands and very knowledgeable and helpful in providing the volume of equipment that we needed in time for the early August deadline.'
'We worked very closely with Megahertz to make sure that the equipment we supplied was the best possible choice for each room and application,' adds 
HHB Manager of Broadcast & SI Sales, Nikki Pascoe. 'A tight deadline leaves little room for error and we had no problem supplying the service and quantities they needed to satisfy both Timeline and BT Sport's requirements. We are very proud to be part of this project.'