As well as being the power behind New York's Jungle City Studios, Ann Mincieli is Technical Director of Alicia Keys' Oven Studio as well as being her album coordinator, and assisting with tour programming. Part of the secret of Keys' pristine piano sound on the road in the studio is Mincieli's choice of DPA microphones.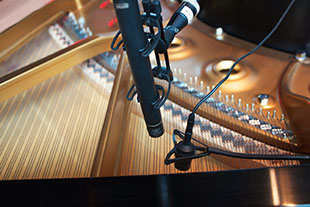 Among Mincieli's collection of DPA mics are several 4023 compact cardioids, as well as the 4011A cardioid and 4006 omni.
'With the live show kit for the 4023 microphones, I'm able to get an incredible piano tone with the lid closed, which allows me to hide the cables,' Mincieli says. 'I sometimes use the 4011s on acoustic guitars, but they're my choice microphones for recording Alicia's piano. All of the company's microphones sound incredible and are really versatile.'
First introduced to DPA Microphones by Eli Ward, Production Manager on Keys' last tour, which was entirely acoustic, Mincieli found the 4023 mic to be the element she needed to bring out the best of the piano: 'We had been experimenting with a few other mics and I just knew the DPA 4023s were the perfect fit,' Mincieli recalls. 'They're versatile mics that can transition from the stage to promo events to the studio. The 4023s are especially incredible microphones that really fill the void left by other products on the market. Many people will forgo trying to perfect the musician's sound and will start using a module because they don't have the right microphones. The 4023s provide a really beautiful, warm tone and a low profile that makes it easier for production crew members to incorporate them unobtrusively into the visual aesthetics needed for a set.'
She is now set to try out some of DPA's latest microphone options, including the d:vote 4099 Instrument Microphones and d:facto Vocal Microphone, for future performances.
See also:
More: www.dpamicrophones.com