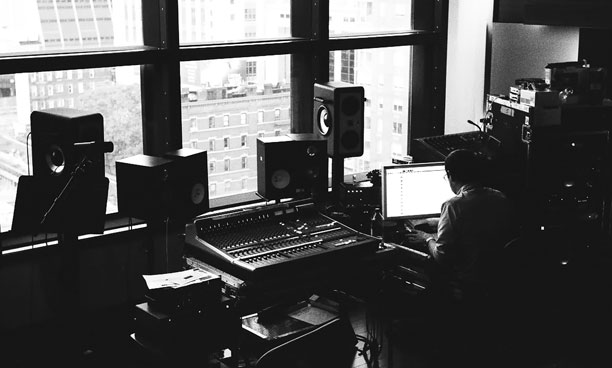 Having worked with Depeche Mode on 2005's Playing The Angel album and its Sounds Of The Universe follow-up in 2009, producer Ben Hillier has resumed production duties for Delta Machine.
Carrying over the set-ups that frontman Dave Gahan and songwriter/synthesist/guitarist Martin Gore have chosen for themselves, a Solid State Logic Matrix mixing console/DAW controller was at the centre of the recording action…
For their thirteenth studio album, Depeche Mode checked into Santa Barbara Sound Design in California and Jungle City Studios in New York recently. As Gahan has a Matrix-based project studio in New York City and Gore has a Matrix in his project studio in Santa Barbara, and Hillier is also a Matrix owner, SSL's SuperAnalogue console with its software controlled analogue patch system and DAW control was an essential member of the team.
'At the end of 'Sounds Of The Universe' we'd encouraged Martin to shift his work method away from purely using soft synths,' says Hillier. 'We really enjoyed using vintage analogue synths on that record. Martin didn't have a massive collection to start with, but he collected a whole load more. As a result of that, he knew he needed to rebuild his home studio, so we set him up with an SSL Matrix.'
For Delta Machine, Gore had assembled a massive modular synth system, with more than 700 Eurorack modules.
'One of the first things that [A&R] Daniel Miller said to me was, "The demos that Martin's made this time are amazing", says Hillier. ' And he was right – they had this great sound to them because he was using all these old synths and mixing them through the Matrix.'
Turning the demos into an album meant moving band, producer, and programming team into a self-built multi-DAW studio set-up within the live room at Santa Barbara Sound Design.
'That studio has a great big live room, so we built a studio in there, because putting a band in a live room and me in a control room is not relevant to the way Depeche work,' Hillier explains. 'We had a Pro Tools rig with hardly any plug-ins as the main recording hub for our studio, which we used like a multitrack, with a summing bus as a mix output, plus a load of laptop-based areas. We didn't want to have everyone sitting around looking over other people's shoulders at one computer screen while someone moved bass drums around, so it was a way of making programmed music in a slightly more sociable, slightly less navel-gazing way.
'We'd worked in a similar way on Sounds Of The Universe, but really missed having a mixing console, because it was quite difficult to reprocess stuff and doing things on the fly was harder, so that's the reason why we got the Matrix.'
The team moved to the East Coast to continue working in The Penthouse at the Jungle City Studios in NYC, with its SSL Duality control room: 'There's really good monitoring in the main studio there, but we still rebuilt our own studio in the live room, so we could run both rooms simultaneously,' Hillier says.
'We were comp'ing everything on the master Pro Tools rig and running that through the Matrix, so we could just hit recall and get back to the same musical buzz every time, while the DAW control got us away from looking at the computer screen too much. We did all the summing in the Matrix – at least all the rough mixes on all the work-in-progress stuff, which worked well. The mix buses sound really great; there's a gain pot on the top that's especially handy when you're setting up a mix and want to drive it a little bit more to make it glue together nicely.'
Part of the key to mixing Depeche Mode's sound is in balancing copious synthesisers and occasional guitar with Gahan's distinctive baritone and Gore's more melodious backing (and occasional lead) vocals. Here, too, the Matrix proved proficient when tracking the band's most emotive elements: 'We had a large rack of outboard compressors and EQs – a few of my favourites and some choice pieces liberated from Martin's studio,' Hillier says. 'These were all patched into the Matrix's software patchbay. Pretty much everything was put through some of them, and we had preset insert chains for things like Dave and Martin's vocal sounds.'
Following another month-long stint in Santa Barbara Sound Design then an Autumn return visit to Jungle City Studios, tracking was complete. Within a matter of months Depeche hit the charts around the world with Delta Machine – to Hillier's obvious delight: 'What's most exciting about this record is that it seems like we've really managed to communicate what the band wanted.'
See also: