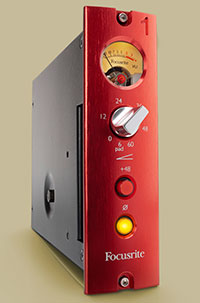 New York City's Germano Studios has added two Focusrite Red 1 500 Series Mic Preamplifiers to its outboard racks – among the first Red 1 units to be purchased since they recently began shipping.
'The Focusrite Red 1 500 Series mic pramps are a perfect addition to our Studio 1,' says studio owner Troy Germano. 'These new, stellar-sounding 500 series modules give the engineers another great option when recording.'
The units were supplied by New York-based GC Pro (the outside sales division of Guitar Center).
'The mic preamps fit Germano Studios' philosophy of mixing new technology classic analogue audio. 'Troy has one of the best recording studios in New York City, and one of the best anywhere,' says GC Pro Account Manager, Tony Donelson. 'The Red 1 500 Series mic preamps are brand new, and we wanted to make sure that we made them available to Troy as soon as we could. There's been tremendous interest in them and demand for them ever since they were announced. That's not surprising, because the Red 1 Series 500 mic preamps are that good.'

See also:
Focusrite Red 1 Mic Pre (500-Series)
Germano Studios add Focusrite recording option
More: www.germanostudios.com
More: www.gcpro.com
More: www.focusrite.com/red1-500series