Building further on its claim to be the largest Presbyterian church in the world, Myoungseong Church has opened a new sanctuary next to its original building in Seoul. Now able to host up to 7,000 worshippers, a pair of DiGiCo SD7 consoles are central to its services.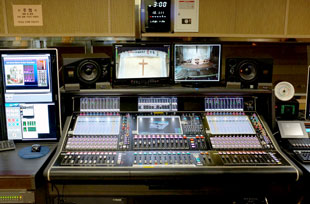 One of the best known churches in South Korea, Myoungseong relays its services to a number of other church buildings around the country in real time. They are also broadcast on the internet, Christian radio and television stations in other territories. While around 100,000 faithful attend the main church annually, Myoungseong counts a million followers globally.
Installed as part of the new sanctuary, project, one of the SD7 consoles is located at FOH, with the other in the building's broadcast studio. Accompanying the desks are four DiGiRacks connected via an Optocore link, and both consoles also equipped with Waves SoundGrid and connected to MediaMatrix DSP.
For daily morning worship, the broadcast SD7 is used to mix sound for both the congregation and broadcast. However, Sunday services see both consoles in use – the FOH desk handling the mix for the main building, with the broadcast SD7 doing an alternative mix for the other church buildings and broadcast media.
'Reliability is the most important factor, especially with the audio being transmitted to other buildings in real time,' says Dae Wook Jung of Soundus Corp, DiGiCo's Korean distributor, who supplied the consoles. 'The dual engines of the SD7 gives the church that peace of mind. The other crucial features are the SD7's high input count and processing power, because the services feature a huge choir, orchestra and worship band.'
The nearby World Gloria Center is also part of the Myoungseong Church and has used a DiGiCo D1 console for a number of years, which ensured the church's two full-time sound engineers and two assistant engineers did not have any difficulty in transitioning to the SD7.
'Having had long-term experience of the D1, the church trusts DiGiCo products – they really like the sonic quality, the reliability and the flexibility,' says Dae Wook Jung. 'Stepping up to the SD7 was a logical choice and they are very satisfied with the performance of the system.'