The establishment of Martin Audio Japan was announced in early 2013 and has now been ratified. Under the new structure, Martin Audio Japan will act as main distributor and Audiobrains will take on a dealership role.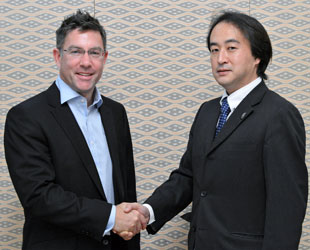 Martin Audio MD Anthony Taylor and International Sales Director Simon Bull sit on the board of Directors of the new company. Adding strength to the operation will be Chris Pyne, Technical Support for APAC region, and a soon to be announced Director of Sales for the region.
'We considered what we needed to do for the Japanese market, and this will deliver greater business opportunities in a wider number of market segments,' says Audiobrains Director, Yusuke Karato. 'We recognise that, with loudspeaker technology becoming increasingly complicated, first-class customer training and service support are essential. We wanted to be the first company in Japan to take this seriously.'
The recently announced success of Hibino, the largest rental company in Japan, in taking stock of Martin Audio MLA, is a further indication of the strength of the new operation.
Mr Karato is 'confident that this new challenge will be successful as engineers who own and believe in Martin Audio's market-leading systems gain more knowledge'. He says that Martin Audio Japan will take an increasing role in import, training, service support and marketing, while new dealers will be appointed to operate alongside Audiobrains: 'There are many things to be done, but it is an exciting time.
'Setting up Martin Audio Japan is our strongest message to our customers of the importance of Japan as a key global market, and the fact that we are here for the long term to support the live event market and system integrators for installation,' says Taylor.

See also:
More: www.audiobrains.com
More: www.martin-audio.com