Having proven itself in the Tokyo Dome and at large-scale festivals including Rock in Japan, Martin Audio's Multicellular Loudspeaker Array (MLA) system has now been taken up by the Hibino Corporation – the largest enterprise for the entertainment industry in Japan.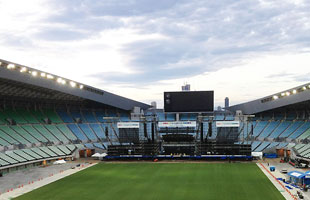 Comprising four divisions – Hibino Sound, Hibino Pro Audio Sales, Hibino Visual and Hibino Chromatek – the acquisition has been made by the company's Sound Division, which has been a market leader in international touring for many years, supporting many of the world's leading artists with premier loudspeaker systems. The investment is in four System 36 rigs, plus an additional four MLA and four MLX subwoofers. This gives a combined inventory of 92 MLA, eight MLD (Downfill), and 52 MLX – providing a large capability.
The MLA purchase reflects Hibino's need to provide consistent stadium coverage up to 200m depth (as in the Tokyo Dome), without the use of delay towers – offering clear sound to the back of a venue without noise pollution and sound spill issues.
'We decided on the MLA investment because the promoters of summer outdoor festivals are increasingly demanding the absence of delay towers from festival sites and a need to solve offsite noise issues,' sRyoichi Hashimoto, Hibino Sound MD explains. 'We also like the fact that its calculation ability is extremely accurate. The benefit of this is that we can get a result that corresponds with what we have planned in the simulation.'
MLA also benefits from its size-to-weight ratio, which given regulations in Japan mean that the system provides no obstacles for its deployment. 'In Japan, the weight of the rigging is strictly regulated, but MLA's weight is similar to systems we have used in the past – even though it is powered. So, it is good for us to be able to plan as we did before.'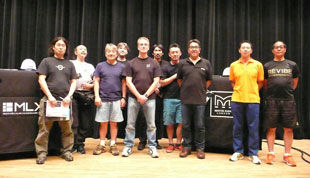 Hibino Sound's new MLA will be pressed straight into festival duty. 'This is the most unique loudspeaker system we have ever had,' Hashimoto says. 'It will become the new choice for customers since it has the ability to meet all their demands.'
Martin Audio has completed training for most of Hibino Sound's system technicians on site, which was carried out by Chris Pyne, Martin Audio's Technical Support Specialist in APAC.
'We are delighted that MLA continues to prove its technical advantage over the competition and more importantly solving sound issues that face the industry,' says Martin Audio MD, Anthony Taylor. 'For the number one rental company in Japan to recognise this is a great honour, and we look forward to supporting Hibino in their success moving forward.'

See also:
Rock In Japan

More: www.martin-audio.com