Maintaining its music agenda but giving its sound a new lease of life, Izola's Ambasada Gavioli nightclub has installed a Martin Audio loudspeaker system.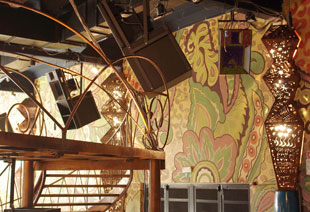 The 2,500-capacity Slovenian hotspot has been playing techno and house from its roots in electronica, and recently turned to local distributor KSL Studio to update its audio. KSL was able to repurpose a powerful club rig from a Llubljana venue (Inbox), after it fell into demise and its system was recovered by a leasing company.
Under the direction of KSL MD, Bostjan Konič, was asked to service, design and reinstall the system for owner Bečič Edis, who was keen to call on the sound of venues like the Ministry of Sound in London, where Martin Audio systems are also used.
There are some system similarities, as Ambassada Gavioli now has eight ASX subwoofer enclosures (containing a passive 21-inch driver) and eight AS118 Hybrid folded horn/reflex loaded bass systems. Although designed to be used with the AM Stadium horn, here they are matched with eight AM 404 large-format, full-range systems and three AM604P delays. The system is driven by two pairs of Martin Audio MA18K and MA12K amplifiers.
'This is the best combination of speakers and amplifiers, and the XTA processor controlling the system brings the best out of it,' Konič reports. 'The owner is delighted with the high impact that we have created for him.'
Its following has given Ambasada Gavioli an enviable reputation among the nightclubs of Europe, and the addition of the signature Martin Audio marque will no be lost on those international touring DJs that appear here regularly.
See also:
More: http://ksl-studio.si
More: www.martin-audio.com