The world's largest country music festival and broadcast broke all attendance records recently. Nashville's annual CMA Music Festival attracted more than 45,000 fans to its main stage concerts on each of four nights, where a large-scale L-Acoustics K1 system served the headlining concert.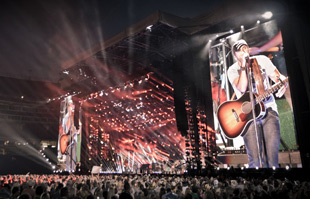 Sound Image took charge of the sound, with Project Manager Curt Jenkins and his crew rigging 72 K1, 12 Kara and 16 Kudo line source elements, 16 K1-SB and 32 SB28 subs, and 78 LA8 amplified controllers.
On stage, eight channels of Sennheiser EM 3732-II receivers, with SKM 2000-XP handheld wireless transmitters and MMD 935-1 cardioid microphone capsules served the artists.
The primary main stage loudspeaker arrays comprised six K1-SB and 16 K1, with three Kara down fills flanked by angled side hangs of two K1-SB, 12 K1 and three Kara boxes. Two six-Kudo auxiliary arrays covered the extreme left and right upper stadium seats, while two delay hangs near the back of the field were both comprised of eight K1 elements.
Low-frequency reinforcement was provided by three cardioid stacks of four SB28 per side and four pairings of two SB28 for centre sub fill. Two stacks of two Kudo enclosures were placed on the far left and right centre sub fills to cover the first 30 feet of the audience as well as help bring the imaging down from the main system. All systems were powered and processed by a combined total of 24 LA-Rak touring racks, each equipped with three LA8 amplified controllers.
'Huge outdoor stadiums like LP Field are always particularly challenging for concert sound reinforcement because not only do you have to cover a huge number of seats, but you also have to deal with sound coming from a variety of different places – mains, aux hangs, far side hangs, delays and so on,' says Jenkins. 'But I have to say that once we lined everything up with [L-Acoustics Touring Application Engineer] Dave Brooks' assistance, the transition between all of the different arrays was so incredibly smooth – way smoother than I had even anticipated. While we were tuning the system, I was overwhelmed by how much it felt like I was listening to this giant stadium rig as if it were a set of high-end studio reference monitors with a whole lot of horsepower. The coherency and tonal balance was really amazing.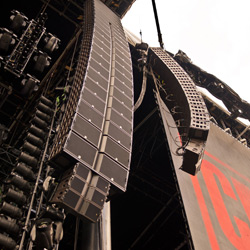 'There was a tiny secondary stage out front, which could have been a real nightmare, but we were just floored by how much headroom we got on the mics out there because of K1's precision,' he continues. 'It was just unreal.'
CMA Senior Director of Live Events and Special Projects Chris Crawford and Production Director Brian Leedham – known for his longtime service with Reba McEntire – oversaw the production, and both were pleased with the results: 'Sound Image truly exceeded expectations on everything from their crew to the PA,' Crawford says. 'A huge thanks to them for helping us continue to improve the fan experience.'
Jenkins notes that the general feeling from engineers coming though was complete satisfaction with the system: 'With many other stadium rigs, you often find that you have to change your mix so much to make things sound somewhat normal,' he says. 'But with the way that Dave, Roz and Rich [Sound Image Engineers Roz Jones and Rich Davis] set this one up, it played to the engineer and sounded 'right' from the very start without requiring any significant tweaking. The comment that I kept hearing over and over was that K1 finally made it fun to mix this festival again.'
Mics and radio systems
Jenkins had contacted Sennheiser USA Artist Relations Manager Tim Moore ahead of the event for assistance in coordinating artist and engineer equipment needs. Given the complexity of the event, Moore suggested bringing in the Sennheiser Global Relations Team for additional support.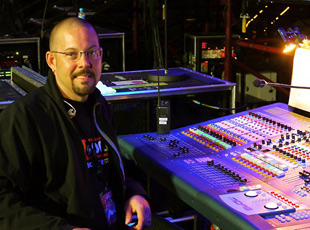 'Sennheiser recognises the challenges technicians and engineers face during these events to stay efficient, so our pre-configured wireless equipment racks give them one less thing to worry about,' says Kristy Jo Winkler, Global Relations Manager, Americas.
In addition to the wireless racks, the mic capsules were carefully chosen for the occasion: 'The e 935 microphone and MMD 935-1 capsule have become very popular and are the choice of a large number of Sennheiser users,' Moore says. 'The MMD 935-1 capsule has a natural response that consistently and accurately reproduces the source. When Curt asked for support from Sennheiser, I knew that the 935-1 capsule would be perfectly suited for the application.'
Jason Glass of Clean Wireless Audio handled RF coordination for the stage microphones, IEMs and television crews, as well as touring rigs for guest acts during the festival. Glass – who has toured for more than 20 years as a monitor engineer – was responsible for the entire performance area, as well as a secondary stage in the audience, located approximately 75 feet beyond the downstage edge of the main stage.
'We relied heavily on the Sennheiser wireless receivers and transmitters during each of the four days, and everything worked perfectly,' he reports. Each day, Glass worked with each artist's tech team to provide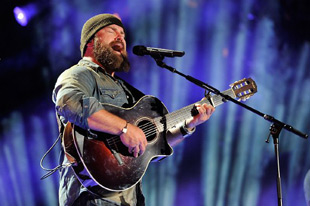 backup frequencies should any trouble arise. 'Everything worked so incredibly well,' he says.
'In four days, we didn't experience a single click, pop, swish or dropout.'
Glass was also pleased with the cross-compatibility between the 2000 series and 5000 series wireless systems: 'When you are working with different touring acts, some walk in with Sennheiser 5000 systems – if the next act walks on and are carrying the 2000 series, you can push a few buttons on the receiver and be ready to go,' he says.
In addition to the wireless microphones, Sennheiser supplied several SR 2050 IEMs and evolution series wired microphones. From the outset, Jenkins was confident that the MMD 935-1 capsules would perform well in a stadium environment: 'The capsules themselves are well rounded,' he says. 'The MMD 935-1 is totally controllable in a stadium environment and because of its wide frequency response works great on anybody's voice.'
More than two dozen of country music's stars – including Blake Shelton, Taylor Swift, Lady Antebellum, Carrie Underwood, Eric Church and Zac Brown Band – were joined by guests Lenny Kravitz, Kelly Clarkson, Sheryl Crow, Kid Rock and Jason Mraz at the event.
'I was managing audio for the whole event,' Jenkins closes. 'Since it was being filmed for TV by a major network, we had to ensure all the audio was rock solid, especially considering we were multitracking everything.'