Hong Kong's Space Museum has extended its attraction with the installation of an Omnimax planetarium system. The museum's Lecture Hall has not only benefitted from the new projection system, but its audio system includes a TiMax2 SoundHub16 multichannel delay matrix as a surround system management and spatialisation processor.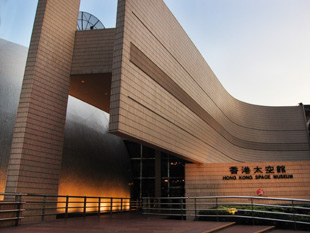 The new sound system uses a d&b audiotechnik 7.1-channel surround set-up – a total of three E12D screen channels with two S18 subwoofers, and left and left-rear surround (mirrored on the right) distributed via four E8s. All the loudspeakers are driven by d&b D12 and D6 amplifiers, with two further d&b M6s available for mobile stage foldback.
This upgrade is a departure from the left/right use of loudspeakers and subs, and goes further than a conventional cinema system due to the multipurpose nature of the room – and also the desire to offer a special movie experience. Films such as Space Junk 3D, To the Arctic and The Last Reef: Cities Beneath the Sea have their standard 7.1 audio enhanced by TiMax to provide a more immersive aural effect than otherwise possible.
TiMax SoundHub is able to quickly switch between various different audio routing, EQ, level profiling and spatialisation set-ups for different applications – LCR sound reinforcement for lectures and presentations on the main stage, 5.1 movie playback, straight 7.1 and TiMax-enhanced 7.1, which uses delay-matrix Image Definitions to blend the incoming standard 7.1 content across screen and surround channels to provide an enveloping soundfield across a wide audience area.
With the TiMax SoundHub's timeline cue programming and multichannel playback server, any sound effects and music beds required for live performances like drama and musicals can be created and edited easily. The system was designed and installed by TiMax SoundHub HK/PRC distributor, Sound Works & Supplies.
See also:
Much Ado About Audio: RSC Re-opens in Stratford
TiMax SoundHub-M enhances museum space
Sound show at New York City Performing Arts Centre
Deutsches NationalTeater stages sound upgrade
Tanz de Vampire adds bite with sound localisation
Case Study: Aida at the Royal Albert Hall