New to Out Board's suite of TiMax2 SoundHub matrix processors and audio show control systems, TiMax SoundHub-M has already scores a number of museum in Belgium through local distributor Face, who has found it well suited in both functionality and cost.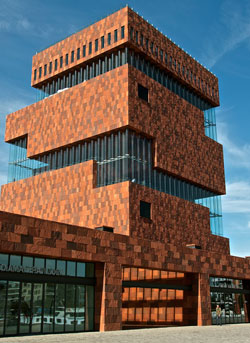 Showcasing highly-collectible figurines from comic strips as well as original drawings and plates, the Museum Of Original Figurines offers 'windows' into their world. Here, a TiMax2 Soundhub-M was programmed by Face engineer, Stijn Vermeiren, to provide multiple soundtracks localised by the system delay-matrix for each of the different character zones and feature exhibits of the museum – as well offering as presets for music, PA and visitor announcements.
Face was also approached to provide audio processing, distribution and playback systems for Antwerp's new €33.5m Museum aan de Stroom (MAS) Museum. A TiMax2 SoundHub matrix server was installed in a 7th floor space themed Life & Death, where the soundscape's principle focus was to provide dramatic atmospheres and immersion for the visitors. In addition to its onboard sound effects playback and showcontrol interfacing, TiMax provided parametric EQ on inputs and outputs for source sweetening and room tuning, plus assignable control Groups for multi-zone level trimming and source mixing.
Genk's C-Mine Museum project, meanwhile transformed the former old red-brick building Winterslag coal mine into a 5,000-sq-m cultural centre and tourist attraction. As visitors walk towards the main mine elevator shaft area, they are accompanied by recordings of miners talking on their way to work, the sounds of their equipment and tools, and the clank and groan of the mine elevators.
'I built a calculator macro for Excel to create the dynamic timelines between the speakers' delay times per scene and simply loaded it into TiMax Soundhub,' Stijn explains. 'From there the museum architect could fully control the speed and intensity of the sound files to change them as he wanted. As visitors immediately heard the new effects, tweaks were made until we saw only smiling faces. This reflected in a pre-production time of just a day with a further day of on-site commissioning. So we delivered a major difference and better results in less time.'
Optimised at museums, visitor attractions, rides, hospitality at retail outlets, TiMax SoundHub-M provides a multichannel playback server and multizone processor and controller, linked with directional audio localisation and spatialisation.
See also: