Following the recent announcement of a new distributor for India, Martin Audio has appointed Istanbul-based InfoGroup Sound Lighting & Visual Systems as its Turkish distributor. The partnership was confirmed by Martin Audio Export Sales Manager (EMEA), Dominic Jacobson, who is confident that the company 'offers impressive credentials and will promote the entire Martin Audio portfolio'.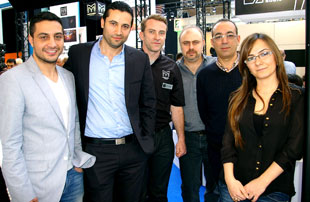 'We needed to find a partner that was active in all our key markets,' he explains. 'We shortlisted two potential partners, but were particularly impressed with the professionalism of InfoGroup. They took me to meet customers in each of their core sectors, and there was clearly a lot of warmth and positivity towards them.'
Established in 1991 InfoGroup specialises in the distribution of sound and visual equipment, and project management. Its target markets include concert touring rental, and permanent installations in conference rooms, houses of worship, stadia, bars and restaurants, cinema and other cultural centres.
The company has the capability to carry out turnkey installations supported by a CAD design and full technical support in house. 'We were familiar with the strength of the company's brand and reputation in global markets,' says InfoGroup General Manager, Salih Maras. 'Although Martin Audio is well-known in Turkey, we believe we can create greater visibility. The brand will fit perfectly into our distribution portfolio as more and more projects are starting to specify leading European brands.'
See also:
IES to distribute Martin Audio in India
More: www.infogroup.info
More: www.martin-audio.com