Martin Audio has appointed Integrated Entertainment Solutions (IES) as its exclusive distributor for India. The agreement was formalised at the recent ProLight & Sound Show in Frankfurt.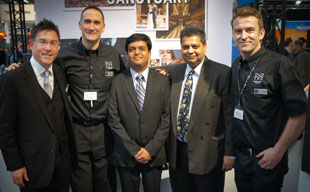 The Mumbai-based sound and lighting company had previously been operating as a dealer, and has been working with the Martin Audio brand since 2006 – both in a rental and installation capacity. During that time it has been involved in equipping many auditoria and specified a range of systems, from Blackline+ and AQ series, up to the W8L Longbow, W8LC Compact and W8LM Mini line arrays.
'We are delighted to be handling the Martin Audio distribution exclusively and will be ramping up our infrastructure even further to accommodate this,' says Director Kekul Sheth. 'Martin Audio has good brand visibility in India and offers great sales potential in all our core markets; in many cases this will be repeat business.'
Both Sheth and business partner Rasesh Parekh welcome the opportunty to introduce the MLA family to the local market adding that the latest addition – the MLA Mini, which was global launched in Frankfurt – to India's large nightclub and bar market.
IES set out primarily as a distributor/dealer for multinational companies, manufacturing intelligent lighting, control and sound equipment, and has been steadily growing its distribution portfolio, adding lighting brands such as Robe.
'We've been talking to IES or a very long time and we are delighted to have reached this conclusion,' says Martin Audio Export Sales Manager (EMEA), Dominic Jacobson. 'We had been looking for solid distribution in India and IES' penetration – particularly of the installation market – is extremely strong. They also have good connections in live sound and associated sectors and this intuitively feels like a natural fit.'
See also: