New Zealand's TVNZ has installed a Calrec Artemis Beam digital audio console in its Auckland studios to handle audio for its flagship news programming and content for its commercial networks. The new 48-fader console is part of a digital upgrade for the national broadcaster, replacing a analogue Calrec console.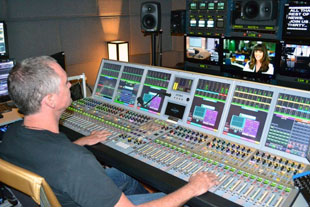 'The Artemis Beam replaced a much-loved analog console, but it also replaced time-consuming patchbays,' says TVNZ Production Services Manager, Paul Hedges. 'We used to rely on physical patching to achieve things that we can now do with routing in the new console. We were running out of fader modules on the analog console, but now we simply map faders to sources and change the configuration. Some of the work we do now was physically impossible on the old analogue console.'
The console to mix daily live news production, a morning magazine show, several weekly current affairs shows, and a weekly consumer advocacy show – more than 14 different live and recorded shows each week. The Artemis console manages all incoming audio, triggering effects, and production of mix-minus and IFB feeds.
The new system gives TVNZ access to more inputs on the same number of faders. Having different layers for different shows makes it easier to transition from one show to the next, especially because TVNZ often requires very fast, sometimes immediate turnaround between shows. The Artemis Beam's routing capabilities manage TVNZ's audio workflows, which accelerates set-up for both remote stand-up shots and in-studio production. Also contributing to the speed of set-up and transition is the ease in changing the layout of the console to suit individual operator preferences.
TVNZ has a range of analogue and digital Calrec consoles throughout its various facilities – a major factor in the choice of the Atrmis Beam. Like many Calrec consoles, the new desk's layout and logic closely followe that of its analogue precursor, simplifying the switch from old to new. 'Our operational team members who use the console every day found it to be intuitive and very flexible,' Hedges says. 'Versatility, capacity, ease of learning, and similarity to the old analogue desk were very attractive features for us.'
When TVNZ covers major events such as political elections, it can quickly and easily expand its capacity by using the console's networking and resource-sharing abilities to join various sources, locations, and studios.
'It's gratifying to see our newer technology joining the mix at TVNZ,' says Calrec Asia-Pacific Regional Sales Director, Graham Murray. 'Reliability, redundancy, and expandability were critical technical criteria for TVNZ's operation, which is mostly live-to-air for about 17 hours each day, and the Artemis Beam is perfectly suited to its news-oriented environment.'
More: www.calrec.com