Netherlands rental company PA Geluid has purchased an Outline Mini-Compass (COMpact Polar Adjustable Sound System) from regional distributor, Audio Specialists.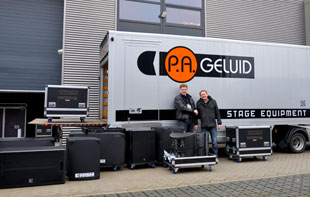 'We needed a flexible, lightweight but very powerful line array system for applications such as theatre and live events, and were introduced to the Outline Mini-Compass. system, which continued to surprise us from then on,' says PA Geluid owner, Paul Achterberg. 'Whether used in line array or ground-stacked configuration, it delivers stunningly high audio quality. The cabinet's wings can be easily adjusted to obtain the various dispersion angles often required from a line array and sonic performance is so good one suspects cabinets hidden elsewhere, as the Mini-Compass units are so compact.'
The package includes 12 Mini-Compass, two Flysub 15 and two DBS-18-2 subwoofers. The systems are all self-powered and feature Outline's proprietary iMode technology. Every Outline enclosure equipped with iMode can be controlled using an iPad, iPhone or iPod touch, with native applications, in real time, via Wi-Fi (apps are downloadable from Apple Store's Productivity category). For example, during a concert, this offers the advantage of being able to control a line array made up of various elements by means of just a tablet.
This is the case with the Mini-Compass and its 'companion' Flysub 15 subwoofer. With Mini-Compass, the app also determines the 16 possible combinations of horizontal dispersion (60° to 150°) that this system puts at system engineers' disposal.
'When introduced to the Outline's iMode control, our engineers smiled,' Achterberg says. 'Run on an iPad, the GUI shows real-time audio/system info and one has real-time EQ control of tone balance and volumes for each cabinet in such a simple manner. This system is by far the most versatile and compact line array/groundstack system on the market today.'
More: www.outline.it