One of the largest gatherings of audio professionals in Eastern Europe witnessed a demonstration of Martin Audio's MLA and MLA Compact systems in Budapest recently.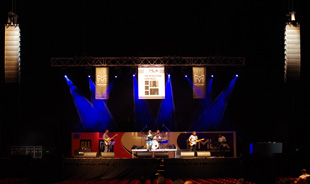 Following a customer convention for MLA at Wembley Arena and the launch of the MLA Compact at The Apollo, Hammersmith, Martin Audio combined both into a single day at the 17,000-capacity Papp László Budapest Sportaréna in Hungary for the East European technical community. The event was hosted by Martin Audio distributor, RMS Audio, run by Tibor Kiss and Gergo Szentivanyi, and was supported by Martin Audio MD Anthony Taylor, Simon Bull, Jason Baird and Export Sales Manager, Martin Kelly, who is responsible for the region.
Representatives of production company owners, theatre technicians, consultants and distributors from a variety of countries, including Poland, Slovakia, Czech Republic, Slovenia, Croatia, Switzerland and Hungary were all present. 'We had originally catered for 60 attendees, but the event was so popular that more than 170 came along,' Kelly says.
According to Kelly, the success of the day was due to a number of factors. First there was the efficiency of RMS Audio and organiser Balazs Verebes, who dealt with the logistical challenges – RMS provided the staging, trussing, lighting, mixing consoles and a live band to accompany the playback CD sources. The company also equipped the conference rooms with A/V reinforcement so that R&D Director Jason Baird could deliver his technical presentations with all the aids required.
A bonus was provided by the presence of Italian MLA production consortium, All Access, who provided the MLA system in the form of a 16-element-per-side hang and then used their purpose-liveried trailer, with its high impact MLA signage, to form the stage backdrop.
Finally, joining the technical crew was André Rauhaut, who runs Berlin-based Complete Audio, the first company to invest in MLA two-and-a-half years ago, following its launch.
In Budapest, the morning was set aside for the MLA presentation which included several different audience area coverage optimisations; since this is achieved electronically there was no need to re-aim the array as would be the case with a conventional system. The system was then derigged and a 12 element per side MLA Compact took over to show different coverage optimisations (via CD playback) similar to the MLA.
'For most of the afternoon we used the MLA Compact to cover the lower bleachers before reverting to the new optimisation to demonstrate that the system would cover the entire venue seating – right up to the tribunes without delays or SPL drop off,' Kelly says. 'All of the attendees were staggered with the consistency of it; they had been expecting it from the full system but probably not from the MLA Compact.'
In summary, he confirmed that the event had been an overwhelming success, stating, 'This was due entirely to the organisational and logistical skills of RMS Audio in creating the perfect infrastructure.'
See also:
More: www.martin-audio.com