Anthony Taylor promised 'something truly magical and revolutionary' when he unveiled Martin Audio's MLA Compact loudspeaker system to an invited audience at the London Hammersmith Apollo. Then he handed over to Research & Development Director Jason Baird to deliver…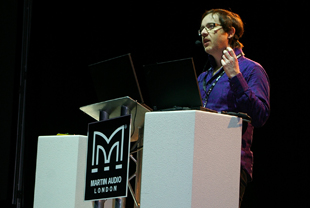 Actually, the Martin Audio MD took a few minutes to remind everyone that the company was 40 years old and had shown 45 per cent growth in 2011. Not revolutionary news, but a little magical in the present economic climate.
Desribing the MLA as the best product Martin Audio has released in the company's history, Talyor reported that 900 systems have so far been shipped since its appearance in 2010.
Then it was on to the Jason and Simon (Bull, Director of Sales) show for the launch proper.
A short history lesson over, the route to the Multicellular Loudspeaker Array (MLA) had been plotted and its benefits, as well as technical achievements, acknowledged. The stage was set – literally – for the MLA Compact.
Being demonstrated with the help of a DiGiCo SD10 console, Baird (pictured) gave a detailed yet accessible account of what the MLA Compact is able to achieve and the principles of its operation. Then the music started, and some of the system's bold claims were ably demonstrated.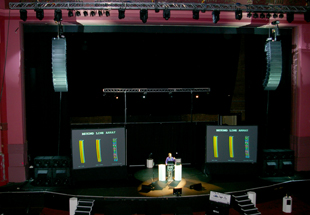 Building on the R&D behind the OmniLine and MLA systems, the MLA Compact targets smaller touring and installation needs without compromising performance. It is 'a fully integrated, networked, active, computer-controlled system', Baird stressed.
'We supply everything you need to analyse a venue and configure, deploy, connect and operate the system. All you need to do is to provide audio to the [analogue or AES3 digital] inputs.'
This includes everything from measurement of the venue to control of the system from a tablet preloaded with Display2.1 intelligent control software. Each set-up is therefore specific to a particular venue or event, and avoids the alternative approach of using a library of system presets that are then tweaked for a 'best fit' result.
Operating over Loud Technologies' proprietary U-Net network, the level of control available is impressive, and includes being able to define 'hard avoid' areas of a venue to keep a stage quiet or eliminate a vocal slap-back from a balcony front. Baird was also insistent that each stage of the system's preparation and configuration could be completed with the time taken to rig it – so that control and configuration did not come with a penalty in set-up time.
A few questions followed (Fan noise? 'We have trouble getting the system hot enough for the fans to kick in') but the presentation had the bases well covered.
The MLA Compact will receive its international debut at the forthcoming Pro Light & Sound show in Frankfurt. More comprehensive technical details are posted here.
More: www.martin-audio.com