Out Board has appointed Sommerein-based ATEC as its exclusive distributor for Austria.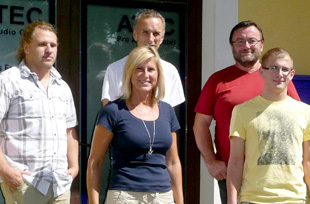 Under the agreement, ATEC will handle Out Board's TiMax2 SoundHub and TiMax Tracker audio processing, playback and showcontrol automation systems: 'The TiMax family fits perfectly with our other high-quality brands,' says ATEC Director, Manfred Prochazka. 'And we are delighted to have undertaken our first TiMax project with a complete TiMax SoundHub and TiMax Tracker installation in the Raimund Theater.'
The ATEC team's skillset and experience across the live event and installation sectors are a good match for TiMax SoundHub, a scaleable audio matrix and playback server for system management, vocal localisation and audio showcontrol in theatrical productions, events and venues, as well as A/V installations such as museums, themed attractions, nightclubs and retail. ATEC's technical resources also make the company suited to promotion and support of the TiMax Tracker radar-based UWB performer tracking system for real-time vocal localisation and effects automation.
'The ATEC guys clearly demonstrate the passion and expertise needed to fully commercialise and support unique products like TiMax SoundHub and TiMax Tracker,' Out Board director Dave Haydon observes. 'We very much value their commitment and support as we continue to grow diverse new European market sectors for TiMax.'
See also:
New sound design for milestone German musical
(Raimund Theatre production)