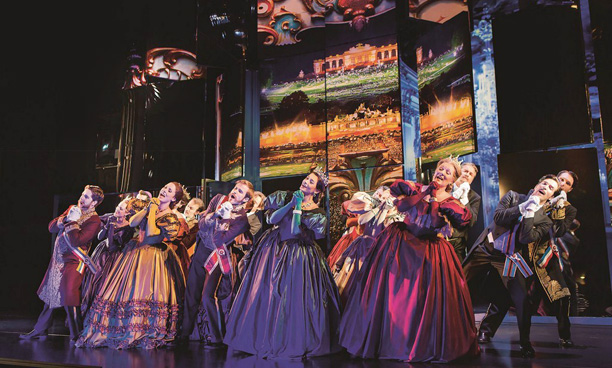 Marking its 20th anniversary in Vienna's Raimund Theater, Elisabeth is the most successful German language musical of all time, having played to more tan 8.5m people in 11 territories. The celebration warranted new treatment by renowned sound designer and engineer,Thomas Strebel.
'It's actually very straightforward,' he says, 'and nothing to do with the performance of the system as it stood – it's just that it wasn't appropriate for what we wanted to do on this show.'
The theatre's original design by Matthias Reithofer for the musical Ich war noch niemals in New York used an A-B configuration based on APG SMX15s and MX1 delays with TB118S and TB218S subs. Using an A-B system to separate the mix eliminated the summing of microphone signals that can lead to phase cancellation. The system worked well, and has been used for all of the venue's the subsequent productions.
The addition of eight APG MC2 loudspeakers brings further high intelligibility vocal reproduction, building on the SMX15 system installed in 2010.
'Our company, audiopool, has worked for years on various productions using an audio tracking system for the actors on stage,' Strebel explains. 'We particularly wanted to use it on Elisabeth as it improves vocal clarity and, therefore, intelligibility. As a result, we had to redesign the loudspeaker system in order to accommodate the requirements of the tracking system.
'We have, in fact, maintained the dual system concept, but not in a classic A-B configuration,' he continues. 'What we've done is to create two completely independent systems; one for music and the second for vocals. The MC2s reinforced by an SMX15 and a pair of DS15s now provide the vocal system, while the music system uses the SMX15s and TB218S subs with MX1 front fills. Each speaker is amplified individually, and the speakers have been moved to different positions in the house. We've significantly increased speaker coverage across the proscenium arch with the MC2s to make the tracking as smooth as possible with no holes anywhere, and the results are excellent.
'APG makes very good sounding loudspeakers, and since our new design also uses point source speakers, the systems already in the Raimund Theater matched our needs perfectly,' Strebel concludes. 'We were able to adapt the existing system to our new design with no problem at all and the writers and composers are more than happy with the results.'
Thomas Strebel is also behind the sound system being used for the Berlin's Theater des Westens staging of Roman Polanski's Tanz de Vampire, with music by Jim Steinmann, which uses TiMax sound localisation.
See also: