Soundcraft's Si Performer integrated sound and lighting control desk has made its world debut on the UK club tour for emerging Sony artist, Kyla La Grange.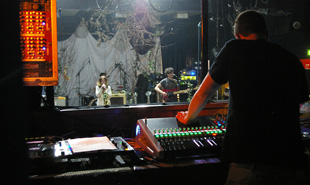 In addition to touring, Amber Audio handles one-off shows and dry hire. Company co-owner Paul Bullimore (handling Kyla's FOH mix) believes that lighting control is set to take a major role in his bookings. 'There are customers we hire to who will love the ability to do simplistic lighting scenes with this desk,' he predicts.
Amber Audio is the first rental house to pilot the Si Performer but is no stranger to Soundcraft, with an inventory that contains GB4, GB8, K1 and Series 2 desks – as well as an Si Compact 32, which Bullimore and partner Alan Burgess purchased 18 months ago. Bullimore believes that the Si Performer 3 is more akin to the superior Soundcraft Vi platform – particularly with its assignable gain, pan and HPF functions.
'We had inquired about Soundcraft desk updates with this tour in mind, and the timing of the Si Performer launch couldn't have been better,' he says. 'When Soundcraft showed us the new desk, it contained everything that was good about the Si Compact 32 – along with even better features, such as the independent LCD channel screens and eight assignable VCA groups, which the Compact didn't have.
'But the strongest attribute is the select fader function, which allows you to assign any fader to any job, and build the work surface you want specifically for the show you're working on. The other notable feature is the Totoem touch [The One Touch Easy Mix] which allows you to get to your mix with one button push; so the board is definitely quicker to navigate enabling engineers to get straight on and use it.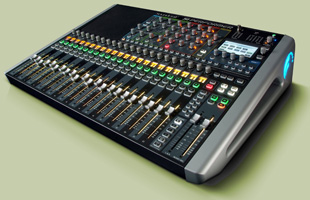 'As a touring desk, to have 32 channels in under 1m width that I can carry on my own and put in the back of a splitter bus, is amazing,' adds. 'The Si Performer fits comfortably into small format venues – yet there's so much under the bonnet.'
He singles out the 14 mix buses – which when touring small venues and theatres with part-equipped house rigs has enabled him to handle monitor mixes from FOH: 'Most in-house desks I'd be working on during this tour would be unable to handle five- or six-way monitor mixes and in ears; they wouldn't have the physical outputs do it. Being able to bring the Si Performer into small venues enhances stage sound for the band, making a more enjoyable performance for everyone.
'Using in-house desks I'd rarely have more than two FX buses to play with, but now we can use all four Lexicon FX – vocal hall and plate reverbs, varying delays, drum plate etc on this tour, while the preamps are crystal clear and transparent, the gain pots responsive and the BSS EQ robust.
'The Si Performer is fantastic and the feedback I have had from engineers couldn't be more positive; they all speak of the ease of getting around the work surface and how quickly they can be up and running on the board. Most importantly they say it sounds a lot better than comparable desks while several technical managers have commented that they see the DMX feature as a real asset.'
See also: