Floating Earth are no strangers to working under pressure, having previously been involved with the transmission of the 2011 Royal Wedding, numerous Brit Awards and a Who's Who of live performances where failure is not an option.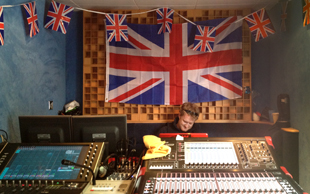 The independent recording, production and postproduction specialist found itself in the front line again, recently, at the London Jubilee Concert. Here, it rolled up its SSL C200-equipped Floating Earth recording truck and fired up its Merging Technologies Pyramix DAW.
'Our business depends on being able to handle anything without risk of failure,' says Floating Earth co-owner and chief engineer, Mike Hatch. 'We have been using Pyramix for many years because, where high track counts are concerned, it is simply the most stable DAW platform available.'
With 416 channels to deal with – 96 of which were coming from a second vehicle – the ability of the truck to hande an extremely high channel cound was critical to the success of the final transmission.
'The number of channels reflects not only the band that is playing but also the next acts to come on, so you need to know they are all live. The Pyramix internal mixer has the capability to do that and when combined with a Smart AV Tango 2 controller, it is the ideal way to check your lines before going live.'
Although there are no immediate plans for a public release of the concert recording, Pyramix was used to capture the whole event. It also proved indispensible on the day prior to the concert, when heavy rain prevented the orchestra from attending the rehearsal. Instead, Pyramix was used to play back their tracks so that the performers could get the feel of the songs and the correct sound balances could be stored.
See also:
More: www.floatingearth.com
More: www.merging.com