Her Majesty Queen Elizabeth The Second's Diamond Jubilee prompted celebrations on a global scale – millions of people throughout the UK and the Commonwealth marked the occasion with events of all kinds.
Among the highlights of the official celebration was a star-studded music concert organised by (Take That's) Gary Barlow. The show featured rock royalty including Sir Paul McCartney, Sir Cliff Richard, Sir Tom Jones, Sir Andrew Lloyd Webber and Sir Elton John, Stevie Wonder and Dame Shirley Bassey. Also apearing on stage were Kylie Minogue and Robbie Williams, while Madness played on the roof of Buckingham Palace.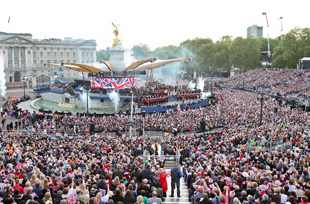 The temporary stage was constructed on and around the Queen Victoria Memorial in front of Buckingham Palace, with Britannia Row Productions handling the audio production, and providing the sound systems to cover not just the concert but also the full length of The Mall, St James's Park, Trafalgar Square and Hyde Park (where an Outline GTO system was used on the Commonwealth Stage).
For the main stage area Britannia Row had designed and deployed a main system comprising 96 Outline Butterfly enclosures with 48 Outline Subtech subwoofers for the audience of 20,000 invited guests standing in front of and seated in tribunes around the temporary stage.
'Our brief was to provide an "invisible" PA – no towers, no flown arrays, but of course it had to sound perfect,' says Britannia Row MD Bryan Grant. 'We decided on a small, powerful, distributed system and our Outline Butterfly was the obvious choice.
'We provided six inner Butterfly arrays each stacked four high in the moat to stage height, with a further eight units arranged as fills on and under the forestage. The main delays consisted of eight stacks, each six high on platforms in front of the bleachers, with another 16 Butterfly boxes as secondary delays in the entrance of The Mall. A ring of Subtechs around the outside of the moat and beneath each delay stack provided the low end, which I have to say was very impressive.'
Each stack of Butterfly boxes was driven by a Lake LM-series processor, and all were networked together using off-the-shelf Cisco switches over a standard IP network.'
As the system consisted of hundreds of cabinets and more than four miles (6.5km) of fibre-optic cabling, it required a large digital audio matrix. Two Yamaha DME 64N units equipped with Dante-MY16-AUD networking cards were chosen for this, and in turn were connected to six XTA Dante Breakout boxes as well as the 48 LM-series processors.
'This system could not have worked on analogue, as the distances involved were so great, and the interference from every kind of signal and power cabling would have seriously damaged the audio quality,' says Britannia Row FOH engineer Josh Lloyd. 'Single-mode fibre-optic cabling was the only viable solution, and the sheer number of nodes required meant that using Dante Audio over IP was the simplest, most cost effective way to achieve this.'
Audinate is pioneering the way networks are connected by transporting high-quality media over standard IT networks, and its use at the Jubilee Concert underlined is uptake and capability. 'As far as I know, this event was one of the largest crowds of people to ever hear audio over a Dante digital media network,' says Audinate CEO, Lee Ellison. 'Everyone at Audinate is very proud to have been involved as a part of this moment in Great Britain's history.'
Jubilee mixing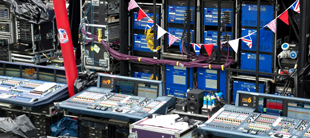 Josh Lloyd specified a network of two Midas Pro9s and a Midas Pro2C console for front of house, along with Midas XL8, Pro9 and Pro6 consoles for monitor land. Lloyd also used 14 Midas DL431 digital mic splitters to take care of 96 channels of house band plus 96 orchestra channels.
'We chose Midas for a number of reasons,' he says. 'First, they sound amazing – arguably the best reason for choosing a console. Second, Midas consoles have proved themselves to be robust, reliable and ideal for meeting the challenges of working on an epic, multi-band, fast turnaround show like this.'
With the swift changeover between artists, Lloyd changed settings on a scene-by-scene basis: 'It was crucial on this project to have the ability to network more than one console together and then route stems and audio between them. This, combined with the head amp and split that the Midas DL431s deliver, has transformed, what is essentially a large and complex system, into a tidy package.'
Lloyd specified a Midas XL8 to take care of the house band monitors, which comprised six musicians, three backing vocalists and five brass instruments, along with an eight-section orchestra and conductor, as well as providing stem feeds to the other consoles.
'In total the XL8 saw 192 channels of input as well as three Midas DL451 modular I/O units for outputs,' he says. 'We also specified a Midas Pro6 and a Midas Pro9 console, each of which had access to all the channels from 96 Channels of houseband, the orchestra, the section leaders as well as orchestra stems from FOH.
The Pro6 and Pro9 were used on a flip-flop basis, which enabled the artists to get comfortable with their in-ear monitor mix and to line check, whilst the previous band was on.
At FOH, Lloyd used a Midas Pro9 to mix the house band and a Klark Teknik DN9696 to record rehearsals to enable him to fine-tune the mixes and automation for the show – as well as produce a reference recording for the TV production team.
'It is gratifying to see Midas consoles deployed in this way,' says Midas Brand Development Manager, Richard Ferriday. 'Britannia Row's decision to use our unique integrated networking capabilities, which are also implemented on the new Pro1, is a glowing endorsement of their confidence in our systems.'
'I've been involved with a lot of large broadcast shows including the Brit Awards, MTVs and headed up other large projects however nothing quite like this,' Lloyd offers. 'Heading up the technical side of the Jubilee Concert sound and designing the system from the ground up was, at times, a challenge. However the back-up we get from the Midas engineers is second-to-none and makes it a lot easier to manage.'
Jubilee mics
Britannia Row called on its inventory of Sennheiser equipment for stage mics and monitoring, including SKM 5200 MkII mics with KK 105 heads for the presenters and 2000 series IEMs for all on stage IEMs. Sennheiser UK's Mark Saunders, Andrew Lillywhite and Tim Sherratt were on hand to assist throughout.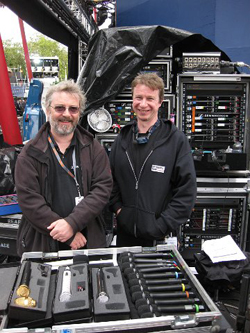 Artist microphones included SKM 5200s with MD 5235 for Gary Barlow, Cheryl Cole and Jessie J, with a custom version for Kylie Minogue, Will.I.Am's SKM 2000 with 935 head, a KMS 105 wired Neumann for Annie Lennox, an SKM 2000 with 965 head for Renee Fleming, an e 935 wired mic for Ed Sheeran and Shirley Bassey's custom 'diamond' SKM 5200 with KK 105 head.
'The system was quite a large and complex one due to the nature of the quick turnarounds between acts, which were around two minutes,' explains Brit Row's Joshua Lloyd.
'We had an A-B monitor console set-up for guest artist and musicians. Each of these had seven channels of Sennheiser 2000 IEM on them we then had a house band console mixing the nine-piece house band, backing vocals and the orchestra, which used a further 14 channel Sennheiser 2000 IEM system. There were a further three consoles out front – one orchestra, one house band and one presenter. Elton John and Stevie Wonder used a separate dedicated console package supplied by Britannia Row and also utilised the 28 channels of IEMs available for ten channels for Stevie and six for Elton.
'At an event like this the sheer quantity of RF, both on stage and around the site, being used by world broadcasters means management of RF is a huge task and the equipment we use needs to be solid in its performance and coverage. Also the stage was very large, so a traditional pair of directional antennas did not provide sufficient coverage, meaning multiple antennas along with headamps and filters to compensate for the large cable runs.
'All of the RF was handled by Tony Scaife alongside Tim and Andrew from Sennheiser. Having Sennheiser onsite meant, as well having back-up and support for their equipment, we also had a vast wealth of RF knowledge and backup, which is integral to the smooth running of a show like this with so much going – and they make it look so easy.'
'When we were asked to assist Brit Row with the Diamond Jubilee concert and carry on the tradition of working on these events [Sennheiser was on site back in 2002 for the Golden Jubilee] I happily agreed,' adds Mark Saunders. 'The gig turned into one of the most technically testing and RF heavy events of this type - and was possibly the highest profile event we have been involved in since the days of Live 8 and Live Earth,
'Alongside our long relationship with Brit Row, this show also allowed us to work with many artists, including Kylie, Annie Lennox and Gary Barlow, who have had a long associations with Sennheiser and Neumann, as well as some of the newer generation of artists using Sennheiser such as Ed Sheeran and Jessie J.'
'Sennheiser has been supporting us at major events for more than a decade now and this was probably our greatest challenge together in that time,' concludes Brit Row's Bryan Grant.
Jubilee comms
The full programme of activities over the Diamond Jubilee weekend included a flotilla on the Thames River and a royal procession from Westminster Abbey to Buckingham Palace before the evening concert. To aid the coordination and organisation behind all events, Delta Sound used three Eclipse Median intercoms and more than a dozen V-Series user control panels for communication between the sound, lighting, pyrotechnics, security and stage-management production teams.
For the concert, Delta set up V-Series panels in the centre of the traffic circle in front of the palace, on its roof and in its back garden. V-Series panels were also used during Madness's performance to ensure the visuals were projected as the band played 'Our House'.
'We found the Clear-Com system to be very straightforward to use, which is important when it comes to coordinating an event of this size," says Phil Kidd, Delta Sound Project & Comms Manager. 'The Eclipse Median systems and V-Series panels were easy to set up and we didn't have to spend much time training people to use them. We also liked the ease of interfacing with other communications systems, such as the walkie-talkies used along the route of the royal procession. Overall, the systems worked very well for us.'
More: www.britanniarow.com
More: www.outline.it
More: www.audinate.com
More: www.midasconsoles.com
More: www.sennheiser.co.uk
More: www.clearcom.com