Roland UK's relocation to Metropolis Studios signifies rather more than a new home for its London showroom and offices. Instead, it sits neatly in line with the announcement of ambitious expansion plans for the London studio and with the growing role of Roland Systems Group (RSG) in the UK's music, audio and A/V business.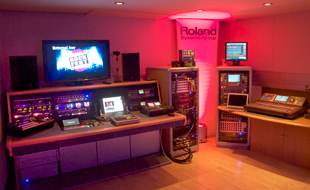 Recent investment in equipment and plans for new studio facilities in the US, Middle East and Japan indicate the energy at Metropolis, and in RSG, the most successful independent recording and production facility in Europe has found a worthy partner on the other side of the music and audio industry. It is also able to share a location in the heart of the live music and production industry.
'The decision to move to Metropolis Studios is part of our long-term strategy to increase our visibility as a total solutions provider to audio and video professionals,' says Roland UK Business Development Director, Peter Heath. 'The move to Metropolis will help us develop our relationships with dealers and end-users, providing the products they want with the features they need.'
'When it was built in 1989 at a cost of £15m, Metropolis was the most expensive studio investment in Europe,' says Metropolis MD Ian Brenchley. 'We are the most commercially successful studio in Europe and among the top five in the world.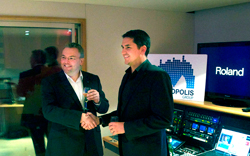 'I see a synergy with Roland, which is a pioneer in its own respective fields, in the new evolution of the music industry. A lot of artists request Roland equipment, and we con provide a far better service located in the same building.
'We aim to be very "musician friendly", and hope to see people spending time here for a wide variety of reasons.'
Roland's presence within the studio complex provides demonstration facilities for the company's pro audio and A/V ststems, and will also enable 'silent gigs' to be performed in the studio foyer, using Roland MI equipment.
'We are the only company that can offer music, pro audio and A/V,' Heath confirms. 'The synergy between both RSG and music products is clear in an environment such as Metropolis – and being in such an environment allows us to gain a better understanding of what our users want and how we can better address our target markets.'
To mark the move, RSG held an opening ceremony in June, where the new office was officially opened by Roland (UK) MD Tim Walter and Ian Brenchley. The event, attended by the press, also highlighted several important new developments from RSG, including the iPad Application for the M-480 Live Mixing Console and the partnership with global communications technology specialist Talkpoint – both of which illustrate groundbreaking new areas of activity for the company.