Unveiled in London and shown in Frankfurt, Martin Audio's MLA Compact loudspeaker system has secured its first sale.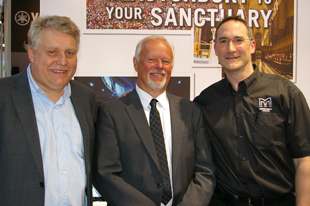 DM Audio AB – a long-serving Stockholm-based rental customer and part of the EM Nordic Group – has invested in a System 36 (comprising 24 MLA Compact top boxes and 12 DSX subwoofers), which is supplied with all cabling and accessories for rental stock. The order was handled by EM Nordic AB's sales arm, XL Audio.
Although long-term this will provide DM Audio with a cutting-edge system for rental stock, it was immediately sub-hired to Norwegian rental company Rubicon, for use as an outfill system at the 9,700-capacity Oslo Spektrum for two Morten Ramm comedy shows. Rubicon itself purchased a full-size MLA system from XL Audio Norway in November 2010.
Rubicon head of sound, Roar Ånestad, accompanied DM Audio's Lars Wern and Barney Gausdal to London for the inaugural system presentation at HMV Hammersmith Apollo: 'We were all very impressed,' Wern says. 'The system is very powerful for its size and sounds great. However the predictability and controllability is totally outstanding and puts it in a class of its own.
'I believe we will be able to use it in scenarios where it will help keep the SPL down for neighbours while maintaining a good punch for the spectators, since we are faced with a lot of situations nowadays where SPL restrictions are imposed at festivals.'
A further advantage, he says, is the possibility of eliminating sound leakage on to the stage area: 'Since we also handle many classical concerts, where there are lots of open microphones, this will be an extremely important and popular feature,' he says.
Wern also believes the MLA Compact has potential for installations in theatres and concert halls, and DM Audio will be arranging a series of live MLA Compact system demos throughout Scandinavia in the coming months.
The Nordic countries have been quick to buy into the MLA programme, and are already starting to build an MLA network, with ETP in Denmark also holding a 36-box MLA system in its hire fleet.
See also:
Martin Audio MLA Compact (system details)
Martin Audio launches MLA Compact line array
More: www.martin-audio.com