According to mix engineer Roberto Rosu, Clasp is 'a beautiful thing'.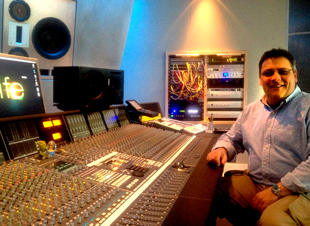 He has recently specified the equipment for Life Studio, the private recording facility of Italian singing star Gigi D'Alessio, and has included Endless Analog's Clasp, (Closed Loop Analogue Signal Processor) to allow the use of analogue tape alonside Pro Tools and other DAWs.
Rosu reckons that the revival of tape machines is allowing the industry to regain some of the magic of older recordings: 'I am from the analogue era when we recorded a performance onto tape not a series of overdubs,' he says. 'The results [with Clasp] are wonderful and the technical support from the American designers has been first class in helping us through the early days. Nothing was too much trouble.'
The studio was designed and built by New York-based Francis Manzella Design of 'The studio has an SSL Duality console and is very modern, very state-of-the-art. The Clasp system complements the rest of the facilities perfectly. I am very proud of it.'
Recently, Rosu completed engineering a new album, Chiaro, for Gigi D'Alessio – for whom he also takes front of house sound on tour.
Acquired from European distributor KMR Audio, Clasp offers a simple, cost-effective means of integrating analogue tape and digital production by treating a tape machine as a DAW plug-in. Clasp also drastically cuts rewind time and tape cost because the tape is only used for momentary throughput. It also offers the ability to jump between tape speeds on the fly to audition and then print, even mixing speeds in the same project—something that is impossible in an all-analogue production.
'Clasp is probably the most exciting thing to happen to the recording industry for ten years,' says KMR Sales Manager, Stefan Pope. 'It means that the analogue tape sound we all love is now available to everyone without sacrificing time or flexibility.'
Current users in the UK include Abbey Road, British Grove and Sphere Studios with more than 200 systems sold worldwide.
See also:
More: www.endlessanalog.com
More: www.kmraudio.com