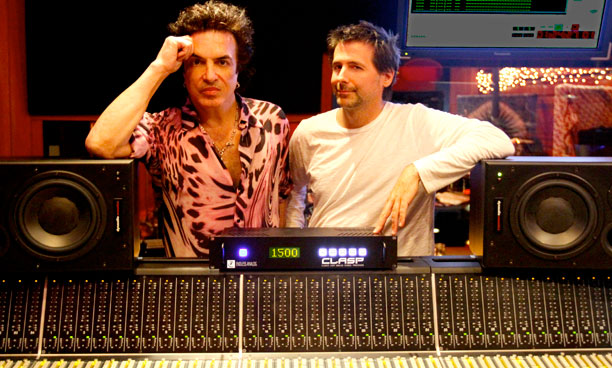 Known for his work with No Doubt, U2 and other top acts, engineer/producer Greg Collins recently found himself back in the studio for another album with Kiss – and a problem.
Having worked on the 2009 Sonic Boom album, he was keen to retain the analogue qualities achieved using tape but to eliminate the delays and disruption of moving recordings between analogue and digital systems.
Sonic Boom was recorded on mag tape and edited in Pro Tools, but the two processes were separate, requiring frequent extended pauses in recording for tape transfers...
As a result, recording the new LP calls on Endless Analog's Clasp (Closed Loop Analog Signal Processor) system, which integrates analogue tape machines into digital audio production workflow. With Clasp, Collins and the band can use analogue tape while tracking to Pro Tools in real time.
'I first heard about Clasp through an engineer friend of mine named Ryan Boesch, and then again from Dave Cobb, who was using the box with The Secret Sisters,' Collins says. 'People were talking about Clasp, and I wanted to check it out. I went to Endless Analog's website and saw Bryan Lenox giving a pretty thorough description – right around the time we were making plans for the new Kiss album – and I knew it would be the perfect opportunity for me to put Clasp to good use.
'We had done a majority recording for Sonic Boom using tape, and we loved the sound, but punch-ins were challenging at times, and getting the tracks into Pro Tools for editing took a lot of time. But mainly, we enjoyed the process of using tape, and everyone enjoys the convenience that digital recording offers. If there had been a way with that first record to get the best of both worlds at the same time, we would have done it. And now there is that reality [with Clasp], so we had to give it a try. I sat down with Paul Stanley, who is again producing, while I am co-producing, engineering and mixing. Paul really knows his way around a studio, but he lets me manage the gear side of things. He gave the go-ahead to use Clasp, so we went for it.
'I got in touch with Chris [Endless Analog President/Founder and Clasp inventor Christopher Estes] and he was good enough to come out and set us up on the first day in the studio, and he stuck with us through the first few days of tracking to make sure that it was all going smoothly, which it did. And it was such a good experience. For me, the tape sound, for a hard rock band, is the ideal sound. It deals with the transients in a way that's really nice and easy on the ears. Drums for instance – it keeps them sounding punchy and powerful, but not "painful" like you might associate with a digitally recorded drum sound. Tape is an important part of the right sound, and Clasp makes it possible to not have to sacrifice any of the perks of digital.'
Collins is fond of several things that Clasp makes possible: 'For me, maybe the most beneficial thing about Clasp was that it allowed me to easily A-B different sounds – monitoring the sounds pre-Clasp, or through Clasp with different tape speeds and other factors like EQ alignment curve. When it is that easy to compare different sounds, it gives you all sorts of opportunities to mold the sound the way you want it, before it gets recorded. In that situation, it is not a big challenge to hear what works best at which tape speed. We used some 30ips and some 15ips –mixing different tape speeds wouldn't be possible without Clasp. It allows you to go back to adjusting the sound for tape, like the old days, but now you're implementing tape in a more deliberate way – there doesn't have to be any guesswork. And aside from all that, it made doing punch-ins on guitar and bass completely non-destructive, just as it would be with a regular Pro Tools session, only we're hitting tape in the process.'
'Clasp allows us to go "back to analogue" for all the warmth and classic sonic characteristics but with all the convenience and advantages of Pro Tools,' Paul Stanley adds. 'It's a no brainer and you just can't lose with Clasp. I'm a believer.'
'There was zero downtime needed for transferring the tracks into Pro Tools,' Collins continues. 'The band is so tight and well-rehearsed, and it's so great to just start a session and knock out a song in two or three takes. A few punch-ins and the track is pretty much there. It's so efficient; it just keeps the creativity and performance going. And the band loves the sound. Honestly, every time the guys walked in the control room for playback, everybody was so impressed – they said, 'It sounds even better than last time, and we loved what it sounded like last time.'
More:
www.endlessanalog.com