Following early placements in the Middle East, SSE has sold one of the first Midas Pro2 digital mixing systems to Wackiki – one of the UK's leading specialists in Event Production Services, based in Nothern Ireland.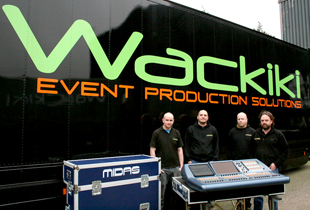 'I can't remember the last time I was sent a rider by a touring act that didn't mention a Midas console,' says Wackiki Hire Manager, Steve Woods. ' Most even specify "anything Midas" prior to a list of other desks.
'With the small footprint and weight of the Pro2, it allows us to put a Midas desk in smaller venues, where we could never bring a Heritage 3000. The ability to control 48 inputs with the small size of the Pro2 means I can send it to any show in any venue _ and I You can use saved shows from other Pro series desks, which makes it very rider friendly.
'I spent years on tour mixing in-ear monitors with a digital desk wishing I had a feature like the MCA [master control association], he continues. 'Anyone who has spent time going cue by cue to change levels to one specific mix would agree. With 70-plus cues running on time code it is much easier to move one fader than several in each cue as the show goes on. With every song being a little bit different I was never allowed the luxury of being able to paste levels across the show. The ability to use MCAs would have made my life a lot easier.
'The other feature I love is having two solo buses. Being able to cue an input or mix to my IEM transmitter or wedge separately is a real luxury. It makes you wonder why other digital desks don't have it.'
Use of the Pro2 by the SSE Audio Group also played a part in the choice of console: 'As SSE Audio use the Pro series we know we can use their hire stock to increase ours as and when required,' Woods explains. 'That gives us confidence and is important from a service point of view- if the Pro2 is off the road, we know we can get a replacement from SSE. As L-Acoustics owners, we already work together on dry hire, so the benefits of continuing to build a good working relationship are obvious.'
'The Pro2 and Pro2C have generated considerable interest since they were first announced and we've already added them to SSE Hire's inventory,' SSE Audio Equipment Sales Manager Alex Penn adds
See also:
More: www.wackiki.com
More: www.sseaudiogroup.com