Following its uptake by the A/V Production Department of Muscat-based Business International Group earlier in 2012, Gulf production company Loud N Clear Middle East has added a Midas Pro2 digital live audio system to its inventory. After two days spent acclimatising to the new desk, it was put into service for an Arabic wedding concert in the Emirates Palace Hotel in Abu Dhabi, with Emirati singer Hussain Al Jasmi providing the highlight of the enyertainment.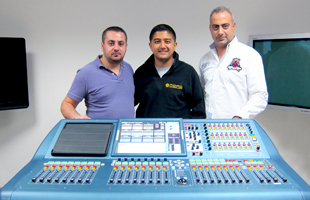 'Loud N Clear has been a Midas user for quite a long time now, with its first console being a Midas Siena a few years ago,' says Chicco Hiranandani, Business Development Manager at NMK. 'Since then, the company has grown and has now taken the digital leap with the Midas Pro2 – which will make significant inroads with the Arabic audio engineers due to the fact that it is very simple to use and provides the engineer with that analogue feel and, more importantly, analogue sound.'
Supplied by Nicolas Kyvernitis Electronics Enterprises, distributors of Midas and Klark Teknik in the Middle East, the Pro2 system is a 64-channel mixer with a compact 24-fader frame providing a total of 156 inputs and 166 outputs point-to-point routing anywhere within the AES50 network.
See also:
Midas gets BIG in Oman
More: www.nmkelectronics.com
More: www.midasconsoles.com