Following a series of high-end studio openings around the world during 2011, Studio 85 has arrived in the heart of Paris.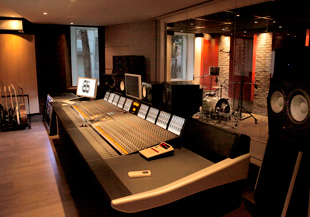 The commercial facility is the work of Guillaume André, who previously created and ran Loko Studio in Normandy, and Renaud Rebillaud, a freelance sound engineer and composer. They have placed a Solid State Logic Duality SE console in its main control room.
Both owners work as engineer/producers and already have a number of high-profile television, radio and music clients on their books. Recent work includes television ads for Loréal, Canal Satellite, Disney Channel and ING, radio ads for France Galop and Cash Converters as well as music projects for French recording artists such as Sexion d'Assaut, My Pollux and Amen Birdmen.
When building Studio 85, André drew on his experience of building Loko Studio, a residential facility that featured an SSL 4000 series console. The new Duality at Studio 85 presides over a spacious 55-sq-m control room, a 40-sq-m 'L-shaped- studio room overlooking an outdoor garden and a 10sqm isolation room – all with natural light.
The control room was designed by the studio specialist team Michel Delluc, Gérard Billot and Olivier Bolling. 'We created Studio 85 in response to the production needs of our clients, both from a technology and personal point of view, putting emphasis on the comfort of clients and artists and on the creative process,' André says. 'We are constantly working with outside engineers, so providing a console that offers an industry standard interface, combined with intuitive DAW control was essential. The 48-channel Duality SE fit the bill on every level, including 5.1 surround mixing options.'
'Because of our high-profile clients, our acoustics needed to be perfect to derive the full sonic benefits of the Duality,' adds Rebillaud. 'We have put together a wealth of high-end outboard mic pres, compressors and equalisers and the Duality helps to bring all these elements together for capture to our Pro Tools system. We were not used to working with a console with DAW control built in, so Duality was a nice surprise because it was simple, fast and logical to use.'
Beyond providing recording services for outside clients, the pair will use the studio for their own projects. André and Rebillaud are sound designers, composers and performers, who also work as engineers and producers.
'The other side of our business deals with our own creative energy,' André explains. 'Both Renaud and I have worked in cramped home-type studios with less than perfect equipment and that experience dictated that Studio 85 be the very best on every level. We wanted the studio to be spacious and welcoming because as soon as an artist or producer is at ease in a studio, great work follows. By extension, Studio 85 is the perfect space for our own creative vision. The mission for the Duality is to capture every nuance of every inspired performance – and it accomplishes that mission.'
See also:
Case Study: Jungle City Studios
Case Study: Green Road Studio
Sound Temple joins Big Room Revival
nhow Brings New Recording Experience to Berlin
More: www.85productions.fr
More: www.solidstatelogic.com