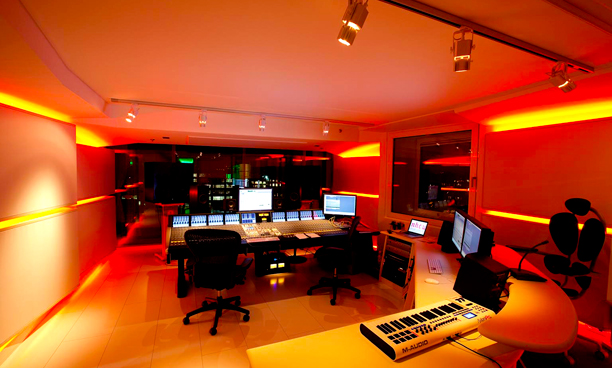 'We have created a truly unique, open-space studio complete with natural ambient light, 32m above the River Spree with a sensational view of Berlin from every room,' says Daniel Schmuck, studio manager for nhow Studios. 'We have equipped the studio with an enviable amount of great outboard gear and microphones, and the SSL Duality brings everything together to create a studio that is truly world-class for our clients.'
Set on the eighth floor of Berlin's nhow Studio complex, the Duality console is the centerpiece of the SSL Mixing Room, and handles projects ranging from established groups and composers, to corporate projects and advertising.
The 'nhow experience' is a mix of recording studio and luxury hotel setting, with one side aspect offering technical excellence and the other excellent guest accommodation. The creative direction for the facility comes from René Rennefeld of Lautstark Musik – also responsible for the production management and bookings at Hansa Tonstudios, where REM, Snow Patrol, Herbert Grönemeyer, Green Day, David Bowie and U2 record.
'Because of the relationship between Lautstark Musik and nhow Berlin, we can offer the option for music creatives that include recording in the famous Studio 1 or the main hall of Hansa Tonstudios and mixing in nhow Studios on the Duality,' Schmuck explains. 'The co-operation with these internationally experienced and interconnected music professionals guarantees top quality and reliability for the artists who work here.'
The SSL Mixing Room is connected to a large vocal/instrument overdub room, which covers a variety of functions. The compact and efficient design of the 48-channel Duality desk matches the scale of the room, while its VHD mic preamplifiers lend themselves to a wide variety of music styles. Beyond the sound quality, Duality brings with it integrated DAW control and that is a must-have for nhow.
'We have a lot of different arrangers who use many different DAW programs that include Pro Tools, Logic, Nuendo, Ableton and Reason, so we needed to be as flexible as possible when choosing a console for the studio,' Schmuck says. 'Duality's DAW control interface is very powerful, intuitive and allows us to control, for example, Logic and Pro Tools at the same time. We also like the Total Recall and automation interface with the DAWs. We are very excited to have Duality and the SSL name associated with our very special facility. We really like working with SSL as a company as they are very attentive to our needs.'
More: www.solidstatelogic.com