A major part of the audio refurbishment of its main auditorium, Sweden's contemporary Folkteatern Goteborg has brought performance tracking to its productions.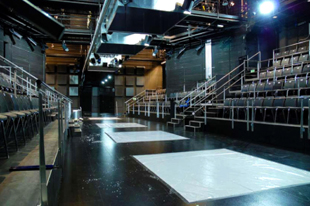 The heart of the new set-up is an Outboard Electronics TiMax SoundHub-S32 audio showcontrol controlled by a TiMax Tracker (TT) performer tracking system.
TiMax processing and control was specified by Alf Berntsen, head of leading Swedish acoustic consultants Artifon, who handled the audio design for the new space. A long-time advocate of delay-based source-orientated vocal reinforcement, Berntsen has previously used TiMax systems in his designs for Norway's prestigious Oslo Opera House, where he had also been impressed with their ability to deliver highly immersive surround sound effects.
The project was overseen by Folkteatern Goteborg head sound engineer Allan Antilla, and designed with the dual objectives of enhancing vocal intelligibility by transparent audio localisation of the actors' voices, in addition to the comprehensive sound effects editing, playback and automated panning offered by the TiMax SoundHub's S-Version software.
As well as these dynamic delay-matrix functions, TiMax SoundHub provides multiple zone balancing and EQ presets for the eclectic mix of speaker enclosures, which are used in thae variable set-ups that accommodate the many different stage and seating configurations that can be created in the auditorium. The TiMax matrix was fitted with analogue I/O cards plus an optional Madi interface for direct fibre-optic interfacing with external multichannel sources.
Four TiMax Tracker TT Sensors were positioned in the corners of the room to map the space in three dimensions, and received pulses of UWB 6-8GHz signal from 16 TT Tags worn by the performers. The TiMax Tracker location server then applied vector (AOA) and time (TDOA) analysis to track the actors in real time and continuously adjust the delay settings in TiMax SoundHub to maintain seamless audio localisation for their individual radio mic feeds.
The Folkteatern's system is just one of several TiMax installations across Sweden which are setting something of a new standard for theatre vocal reinforcement in the country, with even certain actors themselves commenting that they feel more connected to the audience when amplified this way.
More: www.outboard.co.uk