The culmination of 14 months work, RG Germano Studios Tampico is a new world-class studio set to open in Tampico, Mexico.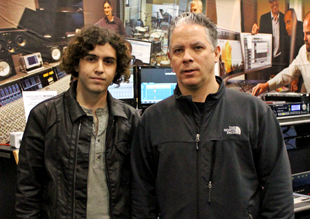 Over this period, owner Jose Carlos Reyes has worked closely with veteran studio operator Troy Germano to bring this dream studio to fruition. 'This is going to be an important place for music,' he says. 'Not only for Mexico, but for North America, South America the Caribbean and Europe – all around the globe. It's an accessible destination and there are few more beautiful places than the Mexican gulf coast.
'From the beginning, Troy and I have been planning this with great detail – every aspect from top to bottom, to make it a state-of-the-art facility with everything that's needed to be able to service all types of music clients, in addition to film audio and pretty much anything that involves audio work. And it is going to have a friendly environment that is going to make people want to work here again and again.'
Germano's resume is as impressive as his pedigree – from his early years learning from his father, Ed Germano of The Hit Factory, to his current venture, New York City's Germano Studios, he has built considerable expertise.
In the process of developing the new RG Germano Studios Tampico, Germano and Reyes called on Guitar Center Professional (GC Pro), the outside sales division of Guitar Center that focuses on the needs of professional users, for products, service and support.
'Through it all, GC Pro has been incredibly helpful, Reyes says. 'Even though GC Pro is in the US, it is very easy for me to get stuff across the border to get serviced if necessary, and they send it back to me very quickly and efficiently. It's nice to be dealing with a small number of suppliers, GC Pro being the primary one. A lot of places only sell boutique gear, for instance, but GC Pro has all that plus Guitar Center's entire product line – instruments and all – so we can go through them for pretty much everything for our control and our live room. It's a very wide-ranging palette, and that's what we need.'
Germano's relationship with the GC Pro organisation goes back a long way and has grown with his role as a member of the GC Pro Affiliate program. 'Working with GC Pro makes a lot of sense,' he says. 'I have a 25-year relationship with [GC Pro Vice President] Rick Plushner, from long before he was even involved with Guitar Center. And GC Pro's breadth of product and customer service/support are second-to-none. GC Pro gets it – we're all on the same page in so many ways. I deal primarily with Rick, Richard Ash [GC Pro Business Development Manager for the Eastern Region] and Niyi Adelekan [NY-based GC Pro Account Manager], and I trust those three individuals implicitly. I like to know that I am working with a company that watches my back, and that's what GC Pro does. It's more than just a gear supplier – it's a professional and personal relationship. We know we can rely on them, and they can rely on us.'
Germano does not take his involvement with this new facility lightly: 'It has my name on the door,' he notes. 'I think people associate the Germano name with quality studios. I know that's why Jose sought out my involvement. He figured that I would make this project culminate in everything that I think a studio should be. I already know that Jose is going to do a great job operating this place, and after we open up, I look forward to giving him bits of guidance on the way, like my father taught me. Everything to do and everything not to do.'
RG Germano Studios Tampico will open on 1 March 1 2012, and is the latest in a string of international studios that signal a revival in high-quality, big room recording.
See also:
Case Study: Jungle City Studios
Case Study: Green Road Studio
Sound Temple joins Big Room Revival
nhow Brings New Recording Experience to Berlin
More: www.gcpro.com