A guitar recording masterclass to be held at Air Studios' recording facilities in London marks the establishment of the Air Training division of the Air Entertainment Group, the umbrella group that incorporates the Air Studio and Strongroom Studio brands.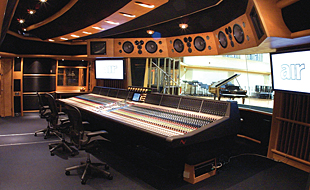 Scheduled for 26-27 November, the masterclass is open to anyone who wishes to further their knowledge of music production and professional sound recording techniques. Attendees will also have the opportunity to meet and learn from world-renowned producers, engineers and musicians.
'Air Studios is known throughout the world as the place that leading musicians choose to create and record their music,' says Richard Boote, Chairman of the Air Entertainment Group. 'This course and those that follow are designed to share the recording expertise we have in-house, as well as the views and experiences of other respected producers, engineers and musicians, with people that have an interest in sound recording or music production. This is the very first time that AIR Studios has opened its doors to the general public for this type of event and we anticipate a tremendous response.'
The guitar recording masterclass will led by producer Tony Platt, Air Studios' Rupert Coulson and Pro Tools specialist Rob Kelly. It covers the techniques and processes required to obtain professional, studio-quality guitar recordings across a broad range of genres. The guest lecturer is Professor Dave Fisher, former Director of Tonmeister Studies at the University of Surrey, and the course will also feature performances, demonstrations and Q&A sessions with several well-known guitarists including Elliott Randall (Steely Dan, The Blues Brothers), Phil Manzanera (Roxy Music, Brian Eno) and Leo Abrahams (Imogen Heap, Paul Simon).
The course costs £450 per person, which includes lunch and light refreshments, a goody bag and a daily prize draw offering attendees the chance to win prizes provided by partners Avid, Hughes & Kettner, PRS Guitars, sE and Waves. The draw also includes two B+W Zeppelin Air iPod docks.
Booking information and further details can be found at the Air Training website. Future courses will include an overview of modern music production techniques and a drum recording masterclass. More details will be available in the coming months.
See also: Postproduction equity service from Air Studios
More: www.airstudiotraining.com
More: www.airstudios.com