The new sports and events hall at Sydney's prestigious Knox Grammar School has been equipped with a KME Pano Series line array system by local company, Professional Audio Technology (PAT).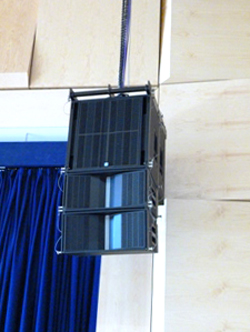 The hall comprises three basketball courts, a spectator seating gallery – 'and everything else a sporting venue could ask for'. It will be used for sporting events and can also double as a concert hall comfortably holding up to 800-1,000 spectators. In order to find the most appropriate speaker system, set-ups from various manufacturers were compared on sound, build and price by contracted audio consultants, with KME coming out on top.
The FOH concert rig uses two KME QLB118 Pano Series Subwoofers (1 x 18-inch) powered with a KME DA230 amplifier (1.5kW/per channel), four KME Pano Series line source elements (2 x 8-inch/1 x 1-inch) powered by a DA428 (700W/channel). The multichannel KME amplifiers are fitted with DSP to manage the system.
'We are extremely satisfied with the performance and clarity of the new system, and what's equally important is that the client is very happy with their buying decision which is imperative,' says PAT Technology Specialist, Alan Liddelow. 'We recommended the Pano system to Knox Grammar because they wanted to have a solution which would not only satisfy the sound quality requirements, but was also small in size. It also had enough SPL to provide the sound engineer with enough headroom during the events. During the setup of the amps, KME's Preset Editor & Wizard made the job straightforward. We thought that a small Pano system was a future-proofed solution providing the highest quality sound, an even sound dispersion and more than enough headroom to deal with anything that might be thrown at the system. Before making our recommendation to Knox Grammar, we met with the client, discussed their needs, analysed the acoustic characteristics of the room and took into account what the system would be used for.
'Professional Audio Technology has been importing KME PA systems into Australia for nearly eight months, with venues and hire companies discovering the German manufacturer's quality in build and sound.'
More: www.proaudiotechnology.com.au
More: www.kme-sound.com