Located just north of Chicago in an idyllic woodland setting, Philharmonic Studios is a new multi-room facility built from the ground up 'to meet the highest technical standards and set new benchmarks in design and performance'. To complement its premium recording spaces, Philharmonic Studios relies on multiple vocal and instrument mics from DPA Microphones for pristine audio and excellent transient response.
'I am relatively new to DPA, but I immediately recognised that the company has elegant and practical solutions for every imaginable scenario,' says Philharmonic Studios owner and recording engineer, Greg Miner. 'With impeccable sound quality, superb transient response and low self-noise, these microphones are ideal for all types of demanding applications.'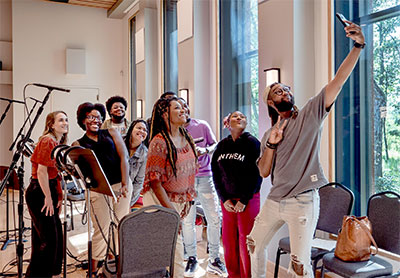 Philharmonic Studios uses several DPA pencil mics, including the 4011 Cardioids, 2011 Twin Cardioids, 4015 Wide Cardioids, 4006 Omnidirectional Condensers and the 4041 Omnidirectional Large Diaphragm Microphones. The studio also calls on DPA's new 4055 Kick Drum Microphone and 4099 CORE Instrument Microphones.
For ensemble clients, the 4011 Cardioid Microphones have proved an excellent choice for strings, brass, piano and guitar amps. 'Whether used individually or in matched pairs, the 4011 is truly a great microphone,' Miner reports. 'It takes EQ well and is quickly becoming my first call for many sources. A pair of 4011s were the first DPAs I ever bought after hearing of the brand through trade publications and online forums. The brand was always spoken of with the highest regard, and since that first purchase, I haven't looked back. From drum overheads to brass, even as a main stereo pickup, DPA mics consistently provide excellent results.'
Miner has also found great success with the studio's other DPA Microphones solutions. 'The 4055 [Kick Drum Mic] and 4099 [CORE Instrument Mic] are superb options for the drum kit and percussion sources,' he explains. 'They accurately capture all the attack of these instruments, with headroom to spare. The 4006 and its related accessories has also allowed me to capture sources with the greatest possible fidelity. When paired with the company's Acoustic Pressure Equalizer accessory, this mic is a fantastic choice for stereo, LCR, Decca and immersive ensemble work. I also must make special mention of the 4041, as nothing I've encountered can capture a room like these microphones can.'
Miner anticipates continuing his use of DPA mic: 'Client reactions are overwhelmingly positive,' he says. 'Many have remarked on the clarity of the microphones and the purity of tone they exhibit. The small form factor of the mics makes for easy set-up and keeps the performers at ease. We are thrilled to offer an all-DPA lineup of microphones for our sessions — DPA Microphones truly gives you the clearest rendering of musical truth.'