Locally known as Joggeli, St Jakob Park houses the largest stadium and the first multifunctional venue in Switzerland encompassing apartments, a shopping centre, restaurants and department stores. During the most recent modernisation of the stadium in 2020 and 2021, owner FC Basel 1893 renewed the entire sound system with RCF components.
The stadium's under-balcony PA system and the entire grandstand PA system have been upgraded, with power amplifiers and audio matrix systems also replaced. In particular, the client chose RCF HL, HVL and P series passive loudspeaker systems.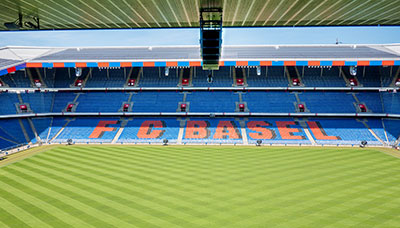 Since the modernisation took while the venue was in use, the Martin Reich (audioconsulting ag) team undertook the work in three phases. First, the amplifiers and the audio matrix were replaced, followed by the installation of the under-balcony fills, and as a final step, a completely new sound system for the grandstands was installed.
'The music reproduction and the coverage by the new RCF systems have become more homogeneous in comparison, and speech intelligibility has also improved distinctly,' reports Martin Reich, CEO of audioconsulting ag. 'With the line array systems, we can make much finer adjustments in terms of quieter and louder sections than was ever possible with the previous point-source loudspeakers.'
In total, the grandstand PA system comprises 205 HL 40 line array elements, 30 HS 2200 high-performance subwoofers for the main PA, and ten HVL 15 loudspeakers for the corner PA. In all, 330 P 4228 loudspeakers – specially manufactured in Basel-Red – are used to reinforce the under-balcony areas and the walkways. The system can be controlled and monitored remotely, virtually down to the smallest transducer.
'With such a large installation in a stadium, it was not only necessary to take into account the structural and acoustic conditions, but also the use during operation,' says Georg Hofmann, head of the RCF Engineering Support Group (ESG) in Germany. 'With the new RCF system, St Jakob Park has a sound reinforcement system that is both optimised voice reproduction, including emergency alerts, and massively improved music reproduction, in terms of sound quality and power output.'
The RCF systems met all requirements of FC Basel 1893 as operator of the stadium and of audioconsulting ag as the installer. The most important criterion was the improvement in speech and music reproduction, as the audio system is also used for safety-related announcements and must follow the Swiss SES SN EN 50849 guideline. Equally crucial was weather resistance and reliability during day-to-day operation.
More: www.rcf.de