For the fourth consecutive year, RG Jones Sound Engineering provided the audio production for Glastonbury's iconic Pyramid Stage.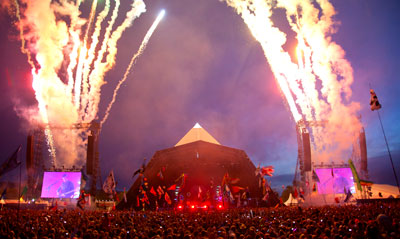 The London-based company (currently marking its 85th anniversary) supplied a Synco by Martin Audio PA, a custom Synco sub-bass array and Synco stage monitor systems. Additional crew and matching equipment came from fellow Synco Network members Ampco Flashlight of Holland, in 'a classic example' of the network's international cooperation.
The production was based on last year's Pyramid Stage set-up, allowing good audience sound levels without attracting complaints from local residents – quite some achievement in Glastonbury's notoriously tricky environment.
The PA was a Martin Audio W8L Longbow rig, with a total of 64 cabinets flown in 16-deep dual inner and outer main PA hangs per side, and a further 64 W8LCs flown in four delay positions, all timed using Smaart. Loudspeaker control was via XTA DP448 digital controllers, with Klark Teknik DN360 for engineers' 'grab' EQ.
A cardioid broadside sub-bass array of Synco triple 18-inch woofers, custom made for the Synco Network by Martin Audio, provided thunderous and tightly controlled bass that the array's design prevented from feeding back onto stage or interfering with the sound of other stages.
The array has been refined over the past three years, in conjunction with noise monitoring specialists RPS Planning & Development, to satisfy the complex demands of maximising audience enjoyment while containing the sound in the Pyramid Stage arena.
FOH was handled by Project Manager Steve Carr of RG Jones and Hugo Scholten, with Mark Edwards as system engineer, supported by PA rigger Remco Verhoek and Martin Audio R&D director Jason Baird supporting the system design effort.
The stage was headed by Mark Isbister with Alistair Viles, Matt Sussex and Tim Wann, and monitor engineers Steve Watson and Ben Milton. A pair of Yamaha PM5D consoles streamlined stage operation, along with the team's usual Yamaha LS9 'shout' board. Isbister commented: 'The equipment was very similar to last year's; we know we've got a formula that works including ARCs side fills and Synco wedges.
'More bands than ever this year used our FOH and monitor desks, partly because more bands are aware of what's available, and we fulfill an element of being caretakers: here's your wire and power, and off you go,' he adds. 'Likewise, quite a few big bands used Synco wedges, they're gaining in acceptance as people get more used to seeing them on the festival circuit here and in Europe, and they're a great wedge, they sound brilliant.'
U2, meanwhile, brought a completely self-contained stage system. 'The great thing about that was the Jake Berry, U2's production manager, was on site last year with Shakira, so he'd seen how busy it can be and made some decisions that enabled them to be really streamlined and slick and take up less space on stage,' Isbister says. 'Their monitor consoles – one for each member of the band – were housed in a 40-ft truck parked in the backstage dock, so we didn't have to dedicate any extra stage space to their setup and it worked really well. They were also providing stems for the outside broadcast – the BBC team received 18 submixes from the U2 monitor department.
'One of the best moments from our point of view was BB King, Isbister concludes. 'He didn't bring an engineer or any equipment, just a basic list of instruments and let us get on with it. Steve Carr mixed him at FOH and our monitor engineers did his stage mix – it was fantastic to have a band just turn up and let us get on with it.'
Mixing it
Midas desks were in good supply at the 2011 Glastonbury Festival, as RG Jones supplied XL4s with XL88 matrix mixer at FOH for the Pyramid Ptage, where they were used by acts including BB King, Wu-Tang Clan and Plan B.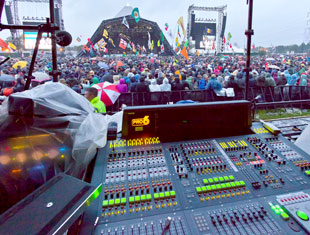 Many of the other acts that performed on the Pyramid Stage also brought their own Midas digital desks – among these were Biffy Clyro, Paolo Nutini, Morrissey and Pendulum.
On the Other Stage, Skan used its trusted formula of two XL4s at FOH and two H3000s on stage. One of South West Audio's Pro6s was being used at FOH at The Park Stage as in previous years, where among the acts to play were Pulp and Radiohead, in secret appearances that The Park has become known for.
So taken was Pulp and their engineer Matt Butcher in production rehearsals that they've exchanged their usual digital console for a Pro6 for the rest of their summer shows: 'We did an A/B test in rehearsals and the Pro6 sounded so much better – bigger and wider and cleaner than the other one,' says Butcher. 'The difference in sound was immediately apparent to me, and Jarvis noticed too, so we ended up swapping consoles.'
Marcus Dalmeida and Jerey Denning were running FOH for South West Audio at The Park: 'We ran a system of writing patches in the offline editor in real time at FOH, updating as the bands arrived, which enabled us to configure the desk for the incoming guest engineers,' says Dalmeida. 'This made their time much more relaxed as the desk was configured to their patch list, and VCA and POP(ulation) Groups were preconfigured for them. We had a mixture of top touring engineers, together with Midas Pro6 virgins, some of whom were a little apprehensive about walking into a festival situation with an unfamiliar digital desk, but after a two minute tour of the desk they realised how simple the control surface was, and there were some really impressive mixes.
'Jerey and myself had a very enjoyable time and were proud of the sound quality on our stage; the desk has a very tactile feel to it which is very similar to Midas analogue. In our humble opinion it's the best digital desk in the world.'
Over on the BBC Introducing stage, new bands were treated to a Pro9 manned by FOH engineer Aaron Sayers, also from the South West Group. 'Despite the rain and muddy conditions, the Midas Pro9 performed beautifully and made the festival that little bit more enjoyable, ' says Sayers. 'Both myself and the guest engineers enjoyed working on the console. After a two-minute explanation of where its features could be found, even those who had never used the Pro range found mixing on the fly intuitive and easy.
'With quick changeover times and a real assortment of acts at this years Introducing Stage, the POP(ulation) Groups and VCAs proved invaluable. The ability to prepare your channel list and VCAs as they are called from patch is unique. The speed at which the console allows an engineer to work makes it hands down my favourite board. The automation section is incredibly useful; I was able to save scenes at speed both during a mix and at the end of a set. This came in handy while changing between DJ and rock acts as I was able to recall previous mixes at the touch of a button.
'The Pro9 is a joy to work on, and my personal first choice for FOH. And my 'one to watch' from this year's Introducing Stage has to be Ram's Pocket Radio; with great songs and a stage presence to match, I'm sure we will be seeing more of these guys.'
More: www.rgjones.co.uk
More: www.martin-audio.com
More: www.midasconsoles.com