Sonosphere has completed a management buyout that sees existing director Jamie Gosney joined by former Autograph Sound man Duncan Bell.
Aiming to bring all aspects of immersive audio to the live, studio and broadcast markets, has been part of the ground-breaking 5G Festival (part of the DCMS 5G Testbeds and Trials Programme (5GTT) for the past 18 months. This project aims to use the 5G network to revolutionise the live music industry, creating new commercial opportunities for arts and entertainment, and giving artists and audiences new ways to interact with each other. Its work with 5GF partner Metropolis Studios, has also helped create the highest resolution Dolby Atmos certified studio in the UK, which has hit the ground running since opening in July.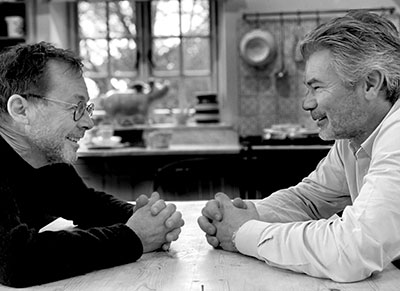 'I became a shareholder and director of Sonosphere last year, and I could see the huge potential the company had,' says Gosney. 'When the opportunity to take over the ownership was presented, I knew that it was too good to miss. But I needed to have the right team in place to take it forward and make the most of all the opportunities that are presenting themselves.'
Gosney and Bell have decades of experience in the audio industry, and first met when Gosney was working as FOH engineer on a show for Autograph in the mid 1980s. While Gosney left the show and went on to forge a successful career as a studio owner, mix engineer and audio systems designer, Bell stayed with Autograph, working his way up the ranks to the position of Group Financial director, a position he held for more than 20 years.
Having been an instrumental part of the company becoming one of the most successful entities in the theatre market, growing to an annual turnover of over £12m, Bell decided that after 35-years' service, it was time for a new challenge and left Autograph in the spring of 2020. With time on his hands during the pandemic, he soon found himself engrossed in the #WeMakeEvents campaign and subsequently formed his own consulting business, Wideband Consulting Ltd, which continues his work campaigning for spectrum access for the sector.
'We talked about what was happening at Sonosphere shortly after that, and I mooted the idea of him joining us at some point in the future,' Gosney recalls. 'I'm more than delighted that he has now decided to throw his hat into the Sonosphere ring.'
'I'd learned about Sonosphere with great interest and followed its progress, and it became clear it had quickly built a name synonymous with spatial audio,' adds Bell. 'Theatre productions have been immersive for many years, but developments in the past few years, coupled with ultra-low latency 5G technology have come together to provide great opportunities to deliver object based spatial audio to all audiences far and wide. The work with Metropolis and the other 5GFestival partners is exciting in itself, and Jamie's vision and enthusiasm is infectious, so when he told me he was buying the company and wanted me to be part of the new structure, I jumped at the chance.'
The first project the pair worked on together was to deliver the spatial audio for the album launch of a major artist at the end of October. 'This was an amazing first job for the new company structure,' Gosney reports. 'The results were fantastic, and we're looking forward to many more projects that are equally exciting.'
See also:
5G Festival Trials
More: www.sonosphere.co.uk