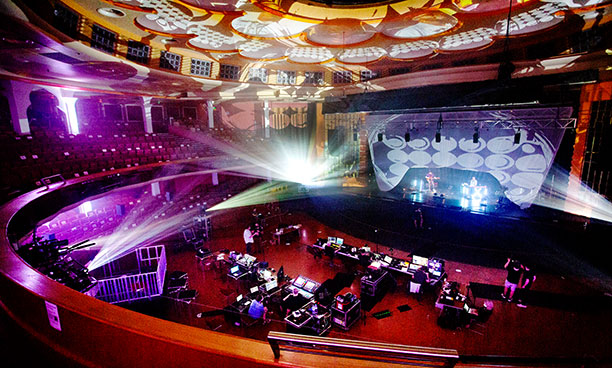 The partners behind 5G Festival have completed a second round of trials to test critical aspects of the technology that will be used to deliver a music collaboration toolset and a unique experience for artists, audiences and venues. The results will deliver the world's first 5G powered hybrid immersive festival experience in the UK early next year.
The social and economic impact of the coronavirus pandemic on the live music industry has been severe. 5G Festival is part of efforts being made across the sector to create what is billed as 'innovative platforms for musicians and artists to write, rehearse and produce music despite geographical barriers, and deliver new, uniquely engaging ways for audiences to interact with live performances'.
As a world first, promises to be a game-changer for the production of events across the music industry and venues, as well as the way in which audiences can experience them.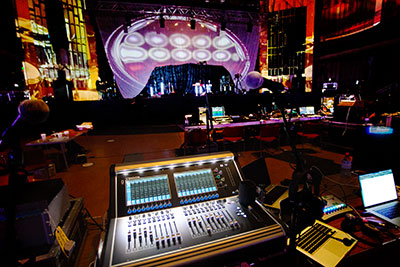 'What we heard through these trials, from all the musicians involved, was that they felt like they were "connected" to each other,' reports Warner Music Director of New Business & Ventures, Tiago Correia. 'We saw them communicate, we saw them crack jokes, we saw them form bonds with each other. And for a company like ours, that thrives on finding artists and developing them with a strong team of creative collaborators around them, understanding that this can be done with talent despite physical barriers, was a watershed moment.'
The 5G Festival will showcase creative talent blended with the power of advanced digital technologies, broadcast live directly to audiences at remote locations from world-leading venues, and producing novel immersive in-venue experiences. The recent trials built on the practical testing and research established during the first stage trials held in March 2021 with the aim of having artists collaborate from different locations to see how an immersive festival experience would work both in a venue and at home.
A new group called The Remotes – the most data divided band in the UK – was put together especially for the trials, led by musical director Kojo Samuel, who has worked with Stormzy, Jess Glynne and Dave. A collaboration of experienced session musicians, The Remotes rehearsed and performed from physically separate locations. A vocalist and drummer were located in Metropolis Studios in London, while 60 miles away in Brighton Dome's iconic venue, a vocalist, bass player, lead guitarist and keyboard player played in two separate spaces.
'Being one of the first live performance venues in the UK to trial this digital technology is hugely exciting,' says Donna Close, Digital Cultural Associate for the Brighton Dome & Brighton Festival. 'The latest trials were about pushing the limits of helping artists collaborate from different locations - as well as testing how an immersive festival experience could work both in a venue and at home. We've been really encouraged by the results, and the reaction from the musicians we worked with has been incredibly positive.'
'Musicians based in Metropolis Studios, London, were able to comfortably engage and perform live with collaborative artists playing at the Brighton Dome using the NReal AR glasses, for extended periods of time,' says Mativision founder & CEO, Anthony Karydis. 'The AR experience presented each musician in the same field-of-view, as if playing in the same room, via our immersive video streaming platform across the 5G network.'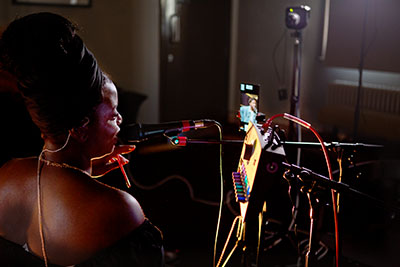 'Our June Trial enabled a seamless workflow for musicians with a distance of 70 miles between them to produce, write, rehearse and perform together as if they were in the same studio, something nobody has ever been able to do before,' adds Gavin Newman, Brand Director at Metropolis Studios. 'This creative proposition gives a really powerful glimpse into the future of 5G.'
The trials tested how much audio latency can be tolerated for a group of performers to be able to play together remotely and how the use of spatial audio delivery instead of stereo helps them collaborate with each other seamlessly in-sync. Video latency was also tested to determine if the performers could take visual cues from each other remotely from two separate venues with live streams of the band's individual performances creating an immersive in-venue experience created by artist Zach Walker from Make Amplify and videographer Nick Driftwood. For the first time in the project, spatial sound was used to trial how this new and emerging audio technology can create a 'virtual festival' experience, which transports the audience member from an intimate space elsewhere in Brighton Dome to the centre of the Concert Hall auditorium.
'This was a big trial for Audiotonix, bringing together Calrec and SSL's AoIP and network knowledge and DiGiCo and Klang's live and immersive audio skills,' says Audiotonix Group Technology Officer, Neil Hooper. 'To see six musicians actively and effectively collaborating in a live environment from three completely separate physical locations proved to us that the audio goals for the 5G Festival are well on the way to being achieved. The fact that the immersive audio experience felt so natural to the musicians was confirmed when they were surprised not to meet all their bandmates together at lunch. We very much look forward to learning more and stretching our technology further.'
The Remotes performed using augmented reality (AR) glasses, live streaming through a 5G network-ready 360° content distribution platform, and an innovative immersive audio mixing interface. This meant that even though they couldn't perform together physically - or take cues from each other - in real life, the individual performers were able to collaborate using technology to recreate the same kind of seamless rehearsal and performance as from a band performing together on one stage. For the audience, the technology will create a more emotionally connected experience in-venue, and through AR, virtual reality and 360° video, will enable streaming of their favourite artist live into their own homes on their preferred viewing device, or from one venue to another.
'One of the most exciting and moving experiences for me about these recent trials was not only the musical connection between the artists but the emotional one too,' observes Jamie Gosney, Commercial Director at Sonosphere. 'They seemed totally oblivious to the technology and communicated and played together like they were in the same space. Covid has had such a devastating effect on our precious industry, not only because artists and technicians have not been able to work and thus had no income, but also because of the effect on peoples' mental health by not being able to connect on a creative level with other artists. I'm convinced that what we're doing will go some way to changing that and act as a safeguard should anything like Covid happen again.'
'These trials were a major success for the 5G Festival project,' says Director of 5G Technology at Digital Catapult, Dritan Kaleshi. 'The network performed as expected and we were able to start pushing at the boundaries of what 5G and immersive technology is able to do. It was actually quite an emotional experience for all involved - for the first time in such a long time, we're hearing and seeing live music being performed, from an incredible band across two iconic venues. It feels real now. This collaboration of organisations is a creative and technical tour de force, and the effort which has been poured into this project is now starting to bear fruit.'
Further trials will take place during 2021, to introduce a third venue with further testing of the spatial hybrid elements and culminating in a live public event, with the 5G Festival taking place in March 2022.