Johannesburg's Eldos FM community radio is the latest of South Africa's broadcasters to embrace IP-based audio through the adoption Calrec's Type R for radio mixing desk.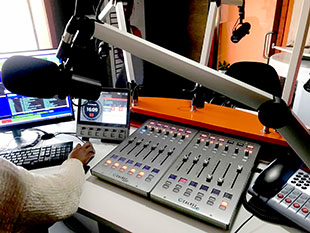 Eldos FM provides social, economic, cultural and political coverage for people of Eldorado Park and surrounding communities. Listeners tune in to news, interviews, music, and a wide range of shows. The station launched in 2008 and presently has 60,000 listeners, and has installed a 6-fader panels Type R with large softpanel in each of two new studios. The studio build was handled by Experience Audio Solutions, chosen by Calrec's South Africa partner Wild & Marr.
'The Media Development and Diversity Agency granted Eldos FM funding to build two new studios and our installer/service provider, Abundant Media, took us to Wild & Marr to explore the latest technology' says Station Manager, Lorreal De Lange, 'We decided on the Calrec Type R for Radio because of its multi-faceted and futuristic infrastructure.'
Both of the station's Type R cores have the ability to handle eight 6-fader panels, giving a total of 48 physical faders and, with the fader panels being dual-layer, the station has access to 96 channels at the push of a button.
'Our team built a full turnkey studio solution which included wiring the entire studio. We designed and supplied custom-made furniture, double-glass windows, acoustic doors and panels,' says Experience Audio Solutions owner, Tumelo Maimela. 'The system was fully tested before the handover and it sounded superb.'
'IP in the broadcast environment is becoming more widespread in South Africa as evidenced by this latest deal with Eldos FM,' adds Calrec International Sales Manager, Graham Murray. 'Type R is quickly becoming the go-to IP console in the region, with its rich feature set, minimal cabling and its simple touchscreen interface.'
See also:
Calrec hits South African airwaves with Vibez.Live