Launched two years ago, South African internet radio station Vibez.Live has moved into the digital realm with the acquisition of a Calrec Type R for Radio console from Wild & Marr.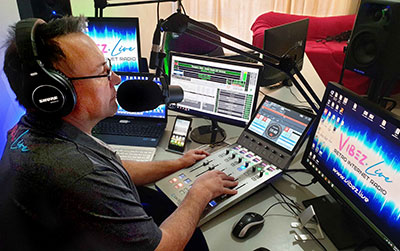 'Having used a variety of equipment for the first 18 months after we launched, including an analogue desk, we knew that we needed to upgrade to enhance our capabilities,' says John Badenhorst, co-founder and Vibez.Live host. 'We spoke to Wild & Marr about Calrec's AoIP-based Type R for Radio system and were immediately impressed. While the Type R core has enough I/O for our current needs, we also purchased a Type R analogue I/O box that provides an additional 16 mic/line inputs and six general purpose input/output interfaces.'
The six-fader console has dual layer functionality, which gives it extra faders at the touch of a button. Vibez.Live also added a Type R soft panel with feature sets pre-loaded for more control.
'We saw an opportunity to partner with Vibez.Live and supply the upgrades needed to put it in a streaming league of its own,' recalls Wild & Marr Broadcast Engineer, Dwaine Schreuder. 'The Trype R has a host of benefits and keeps installation simple – its Ethernet connection, it does away with cumbersome cables found in conventional studios.'
The Type R has a simple layout and a clear touchscreen display that fits well with the Vibez.Live studio environment, taking up less space while doing the job of a larger desk. Vibez.Live also uses two pairs of Shure SRH840 headphones, two Shure SM7B microphones and On-Stage's microphone boom arms. All levels are now easily managed and compressed, which was previously challenging.
Vibez.Live broadcasts music from the 60s, 70s, 80s and 90s, with recent months seeing the introduction of a weekly Trance Vibez show in conjunction with Denon DJ SA and Midi Music. Following the switch to its new console, Vibez.Live's online communication was flooded with listeners commenting on the improvement in sound quality.
'There's a lot of competition in the radio market for both traditional and streaming stations, and the sound quality can't be compromised,' says Calrec International Sales Manager, Graham Murray. 'Type R for Radio's versatile attributes, such as being able to add more fader panels via a simple ethernet connection, puts Vibez.Live firmly in control. We're so delighted the station is able to connect with audiences on a higher level.'