From working with the likes of Robert Palmer, Depeche Mode, Adriano Celentano, and Eros Ramazzotti to embracing surround sound and immersive audio projects well before they were commonplace, producer/engineer Pino Pischetola's forward-thinking attitude has seen him upgrade his Pinaxa Studio to make it the first Dolby Atmos-certified mixing room in Italy.
To make the most of the rapidly-growing format, he has adopted a monitoring set-up consisting entirely of Amphion loudspeakers not only to give him the clarity and imaging he requires, but that his work will translate in the variety of scalable formats where Atmos can now be heard.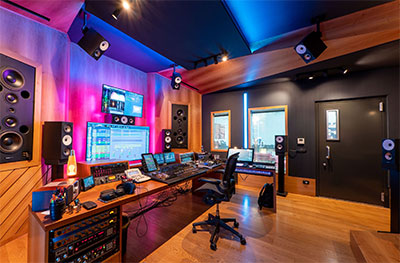 A veteran of surround sound formats such as 5.1 and 7.1, Pischetola sees Atmos as a way for listeners to engage even more with the music they love the most. 'It's like being inside the music instead of in front of it when it's done right,' he explains. 'It gives you a listening experience that you can really give your all to, which is something I have always been very enthusiastic about. Feeling the music instead of just hearing it.'
Pischetola says he knew that Atmos would be a game-changer on account of being scalable. With major streaming services like Amazon Prime Video and Apple Music announcing support, he believes that it will become the new standard for audio everywhere – from film and TV mixes to the pop singles. 'Immersive is absolutely the future of the media landscape,' he says. 'This is the first time a surround sound format has been accessible to listeners at all levels, from a large theatre to their headphones. I knew immediately that I had to start working in it.'
Aware of the pitfalls of immersive sound translation, he knew that his studio needed excellent monitoring to ensure that he could do his best work. 'I'd been using the Amphion One18s for stereo mixes and was impressed by how well they translated,' he says. 'When it was time to do the big upgrade for Atmos, I knew it had to be Amphion because I'd be able to adapt right away and trust what I was hearing.'
Pischetola works in Pro Tools HDX with an Avid S6 desk, allowing him to use all 128 channels of Atmos when he mixes. In keeping with Dolby's specifications for an Atmos room, his 7.1.4 set-up uses a pair of Amphion Two18s as LCR, two One 18 for the sides two Amphion One15s as surrounds, and four mounted in the ceiling using Amphions ceiling adapters. 'It was really a seamless process once I had the entire set-up rigged in my room,' he reports. 'The centre image was immediately impressive, the speakers completely disappeared, and I was inside the music. Exactly where I wanted to be.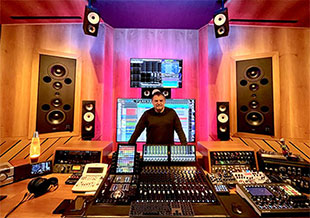 'The translation also continues to work incredibly well. It's been very rare that I've been asked to fix anything since I've started using Amphion, and this has been the same with my Atmos work.'
Although he is enthusiastic about the possibilities of immersive audio, Pischetola is quick to note that mixes needs to be handled with care. This manifested early when he found himself working on an Atmos reissue of Franco Battiato's La voce del Padrone, a popular Italian synth pop album with a devoted audience. 'It is a beloved album that people know very well,' he says. 'I knew that we had to respect the original stereo mix while still giving the fans something new to enjoy.
'With the Amphions, I was easily able to honour the original stereo mix when bringing it to Atmos but made it wider and more immersive to listen to. That way it was still the record they loved, but with even more detail for them to enjoy and experience. When I finally played it for people, they fell in love with it all over again.'
Emboldened by his experience with a classic, Pischetola has been encouraging his other clients to work in Atmos as well. Although it's still in the early stages of being business-as-usual, he says that being ahead of the curve has its benefits, both from a creative perspective and an equipment one.
'It's already becoming an organic part of the production process as more older albums are being remixed for Atmos,' he says. 'It's exciting to see it emerge, and the impact that it is starting to have on new music especially after the recent adoption from Apple with Spatial Audio.'