Scottish commercial broadcaster STV has undergone a full technical upgrade of its news production and sound control rooms and studio at its Glasgow HQ, marking the UK's first on-air broadcast installation of Lawo's A_UHD Core (Phase 2) and 48-fader mc²56 MkIII mixing console.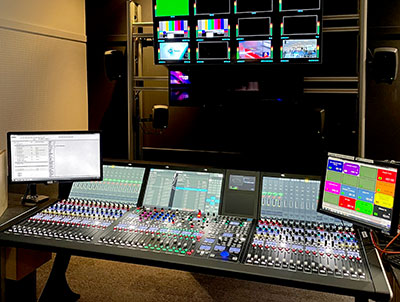 Originally planned as a technical and cosmetic upgrade of the busy production and sound control rooms, the STV team investigated Audio-over-IP to enhance current workflows as a route to future expansion across the facility.
With Covid-related lockdown and travel restrictions last year delaying the project, STV reviewed its requirements and Lawo Rental department sent a console to Glasgow for evaluation by STV engineers. With the support of Pre-Sales Engineer Frank Mosch, Lawo provided remote evaluation and training for STV's team to familiarise themselves with the surface layout and plan deeper IP integration.
In December 2020, Lawo announced an update to the A__UHD Core DSP processing platform – the A__UHD Core (Phase 2) offered STV IP signal and distribution, and a reduced rack footprint . This saving in space and power usage, along with the Easy IP set-up features included in the new Lawo IP management platform Home, enhanced the move towards an AoIP infrastructure. Lawo also supplied a Mix Kitchen setup to increase the system's flexibility and enable remote hardware control of the console.
Completing the set-up, STV chose Lawo's A__mic8 stageboxes for the studios. Multiple A_mic8 were installed in wallboxes distributed around the studio instead of a larger, centrally located A__stage64 unit to help reduce microphone cabling. Lawo's R3lay Virtual Patchbay (VPB) was also selected for the SpotOn playback software, moving away from a separate AES-based soundcard.
As construction of STV's facilities progressed, a technical issue resulted in the new Lawo audio console system being brought online early for a series of live Scottish Parliamentary Election broadcasts.
'We wanted to spend as much time with the Lawo equipment as possible before implementation to better understand how the new AoIP workflows work and integrate with our other sound systems and to be able to make the best use of the flexible and scalable workflows', says Channels Operations Manager, Sam Dornan. 'Technical issues resulted in us bringing the console online earlier than planned and we received instant support from Lawo. The majority of commissioning and training with the mc²56 was already completed, but kudos to the Lawo team and our STV engineering team who worked together to get everything swiftly changed over in a short space of time. It was a tense few days but the Lawo is very flexible and intuitive.'
'We had this project scheduled to finalize in early June, when the STV control room was planned to be ready for production when Sam unexpectedly got in touch and explained the situation. Of course, the Lawo and STV teams got cracking straight away', recalls Lawo Director of Audio Sales for the UK and Ireland, Devin Workman. 'This project serves to demonstrate the flexibility of IP technology in establishing infrastructures.'
STV's broadcast channel reaches 3.2m viewers each month alongside streaming service, STV Player and STV Studios, Scotland's largest production company.
More: www.lawo.com