Focusrite plc has unveiled a new commercial audio brand, Optimal Audio, the seventh brand in the Focusrite Group, with the mission to simplify the unnecessarily complex world of commercial audio'.
The venture has been in the making for three years, involving extensive R&D across product and software, in a bid to simplify the unnecessarily complex world of commercial audio. 'Optimal Audio provides a streamlined product offering working seamlessly together to deliver high-quality sound that is easy to install and can be operated by anyone, not just engineers,' says Focusrite Group CEO, Tim Carroll.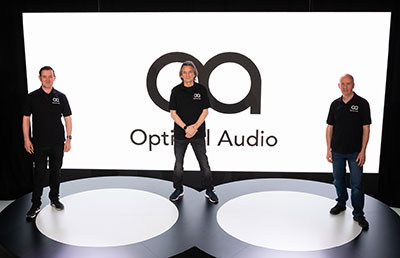 'Alongside its own dedicated staff, a number of colleagues from across the group – most notably within Martin Audio – have helped to bring Optimal Audio to fruition. In the long term, our ambition is that the brand will have its own distinct team.'
Now MD for both Martin Audio and Optimal Audio, Dom Harter adds: 'Optimal Audio offers a one-stop solution of control, amplification and loudspeakers for small to medium-sized commercial installations, with a focus on supporting multi-zone venues. At the forefront of the eco-system are four and eight-zone, powered and non-powered Zone controllers that have DSP at their heart. There is currently nothing else at this price point on the market that has the functionality and versatility to allow such a quick and simple setup. They have a flexible three-band EQ plus bandpass filtering on every output, alongside limiters and delay – features that are normally associated only with premium-priced offerings.'
Compatible with any device, Optimal Audio's WebApp offers straightforward system set-up, allowing installers as much access as they require to configure EQs, devise presets and structure time-of-day routines. Once completed, venue staff can be presented with a simple user interface which allows them to operate the system. Zone controllers can also be supplemented by wall-mounted controllers called ZonePad, available in one-zone or four-zone formats, which ensure that operation by staff is simple, intuitive and within easy reach.
The Optimal Audio line-up includes three SmartAmps with DSP, multichannel direct drive constant voltage, optimised presets and with half-rack and full-rack options available. SmartAmps provide a cost competitive fit for the commercial market to accompany the portfolio and maximise the performance of its loudspeakers.
Optimal Audio's loudspeakers comprise a five ceiling speakers (appropriately named Up), a series of four on-wall wooden speakers (called Cuboid), and two compact subwoofer solutions (Sub). While being cost-competitive, sound quality is a priority of the loudspeaker category, with Harter promising a 'rich and detailed sound that will surpass expectations in this price category'.
'Optimal Audio maybe a young brand, but as part of the Focusrite Group it has an impressive pedigree,' Harter asserts. 'We have combined innovation and experience to simplify commercial audio, and by launching more than twenty products at the outset, Optimal Audio has created a high-quality, comprehensive, multi-zone, one-stop, commercial audio offering.'
Seea also:
Audio-Technica takes key role in Optimal Audio launch